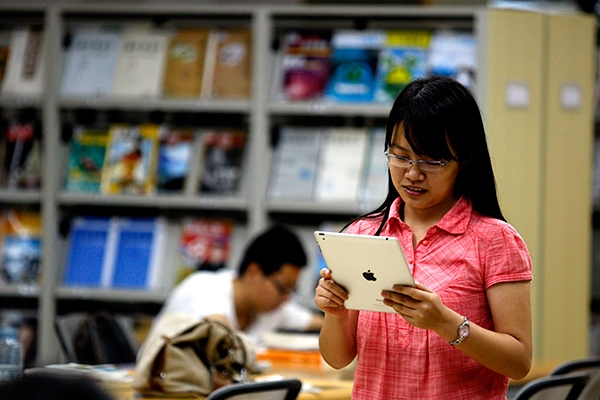 More universities in China have started to implement a ban on electronic devices in class - including cellphones and tablets - to ensure students can concentrate on learning.
Jiangxi province recently took the initiative to issue the first provincial ban on college students from taking electronic devices into classes.
The Jiangxi Education Bureau issued a guideline forbidding college students in the province from using electronic devices in class, unless they are used for educational purposes.
Other universities have used bags to collect students' cellphones before classes and if they refuse to turn their cellphone in, they will get a lower score on exams.
The School of Physics at Huazhong University of Science and Technology in Wuhan, Hubei province, started a cellphone ban in 2014. Students who play with cellphones in class must hand them in to teachers for a month, according to the school's regulation.
Beijing Geely University issued a similar ban in March last year, with a team organized by school administrators inspecting classes daily to catch students who play with cellphones, said Huo Weidong, president of the university.
Students who play with cellphones during class will be criticized, their names published on different platforms, and their parents invited to the school, he said.
The school has not caught any students playing with their cellphones for 55 consecutive days, he said.
Feng Jianguo, a doctoral candidate at Tongji University in Shanghai, said banning cellphones does have its advantages as many college students have little self-control.
When they use cellphones to play games and chat with friends, it is hard for them to learn anything in class, he said, adding that if cellphones are properly used, they can also become important study tools.
Xiong Bingqi, vice-president of the 21st Century Education Research Institute, said banning college students from taking mobile phones into class is hard to enforce, as many of them need phones to help them study.
"Even if mobile phones are banned, if a teacher simply reads from the textbooks, students will still struggle to concentrate. The main factor in retaining students' attention is the quality of teaching," he said.
Tian Jiayin, a senior student at Tongji University, said when students play with cellphones in class, it shows disrespect for their teachers and their own future.
However, some teachers have not shown enough respect for students and have not done enough preparation for the class, thus causing some students to lose interest in the class, he said.
"As college professors, we should reflect on how our teaching is received by students and should enhance our teaching quality to help our students be more engaged," Zheng Ning, a teacher with Communication University of China, told Legal Daily.
If you have any problems with this article, please contact us at app@chinadaily.com.cn and we'll immediately get back to you.