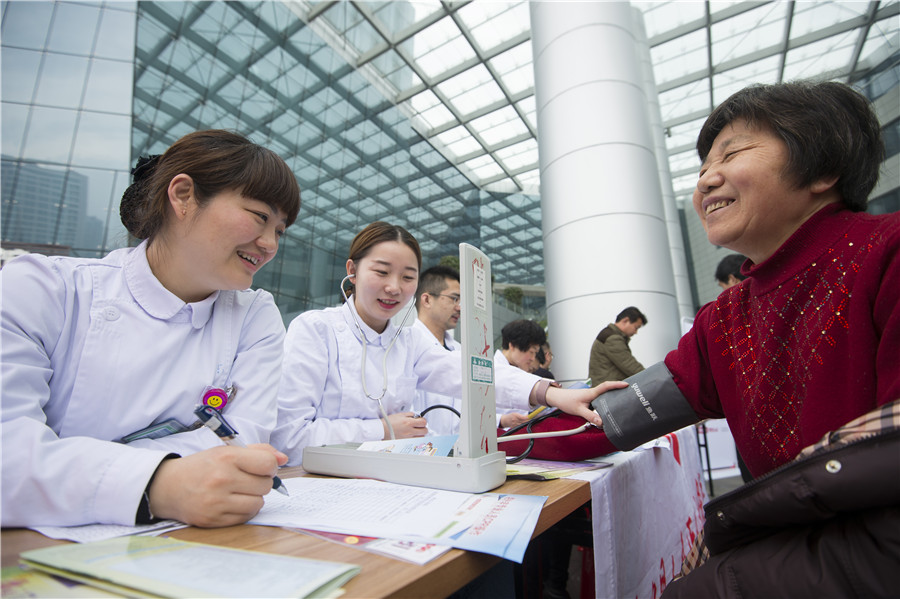 To raise awareness of one of the most common, serious, but overlooked medical conditions, World Hypertension Day has been marked on May 17 every year since 1978. Yao Yuxin reports.
Cardiovascular disease kills 17.9 million people every year. As such, it is the number one killer on the planet, accounting for 31 percent of all deaths worldwide annually, according to the website of the World Health Organization.
Moreover, four out of every five of those deaths are caused by heart attacks or strokes, about half of which are the result of hypertension - high blood pressure - the WHO said.
More than 1 billion adults across the globe have high blood pressure, but fewer than one in five patients have the condition under control, according to the website.
The picture is even bleaker in China, where only 15.3 percent of the 245 million people diagnosed with the condition managed to lower their blood pressure to normal levels last year, according to Circulation, a journal that focuses on issues related to cardiovascular disease.
"There is never enough awareness of hypertension, because you can't feel it," said Craig Anderson, executive director of the George Institute for Global Health China, a nonprofit medical research center established in Sydney in 1999, which has offices in Australia, the United Kingdom, China and India.
"It's not something you can feel in your body unless your blood pressure is extremely high - then you get headaches, become flushed and feel dizzy," said Anderson, who is also a professor of neurology and epidemiology at the University of New South Wales.
According to Circulation, the silent nature of the condition means more than half of those affected in China are not aware that they are at risk. The problem is exacerbated because less than half of those diagnosed with the condition take medication to control it.
Anderson estimates that at least 20 percent - and perhaps even 30 percent - of adults worldwide have hypertension. Meanwhile, Circulation reported that the incidence rate in China accounts for 23.2 percent of the adult population, and 41.3 percent are at risk of developing the condition.
Anderson said: "If you look at the number of people in China, that's hundreds of millions of people. It's a big problem."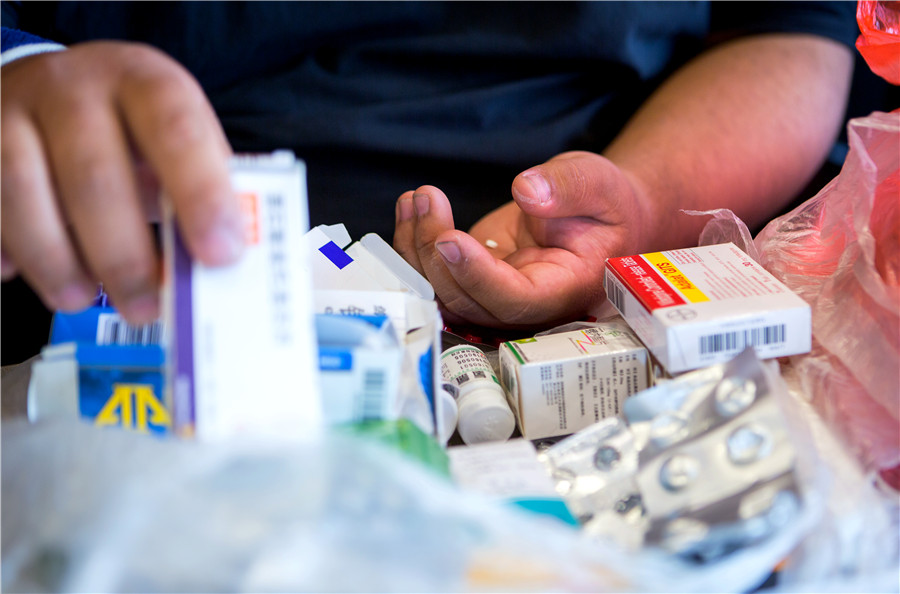 Early prevention
He believes it would be beneficial to focus on children, because the body is programmed during the earliest stages of life, even in the womb, and many surveys around the world have shown that early changes to blood vessels can be linked to high blood pressure.
Given those facts, children should be taught about the value of a healthy diet and regular exercise, which - combined with not smoking or drinking excessively - can reduce the risk of heart attacks and strokes, according to Anderson.
"That's why we should think about schools, about the children who are tomorrow's adults. How do we change their habits?" he said.
His institute is conducting a survey called the Salt Substitute and Stroke Study to determine if the introduction of a low-sodium salt substitute could lower the risk of having a stroke.
"It's only being conducted in China, because salt consumption here is among the highest in the world," Anderson said, noting that the recommended daily level is 5 grams, but Chinese people consume an average of 12 grams.
Chinese cuisine traditionally uses salt and soy sauce, which both contain large amounts of sodium. While the element is essential for the body to function correctly, it is also one of the leading causes of hypertension if consumed excessively.
The Chinese preference for pork and pickled vegetables also contributes to high salt consumption. In ancient times, people countered a lack of fresh food in winter by using salt as a preservative for meats, a practice that has left the Chinese with a taste for salty dishes.
"We see very, very high salt consumption, and salt is linked to blood pressure," said Anderson, adding that the high incidence of heart attacks and strokes will not be reduced without radical changes to the national diet.
People age 50 or older who have been diagnosed with hypertension should have an annual health check that focuses on their blood pressure, but that is rare in China, he said.
"If you have had a stroke, blockage (in blood vessels) or (cranial) bleeding, getting your blood pressure under better control afterward could prevent another stroke or heart attack," he said.
A report published by the WHO in 2013 indicated that hypertension was more prevalent in low-and middle-income countries. It noted that the highest rate was found in Africa, where the condition affected 46 percent of people age 25 and older in 2008, while the lowest rate (35 percent) was found in the Americas, mostly as a result of early detection and treatment.
The report also noted that from 1972 to 2007 the mortality rate from heart attacks among working-age people in Finland fell by 85 percent after preventive measures were introduced, including dietary changes, hypertension medication and anti-smoking campaigns.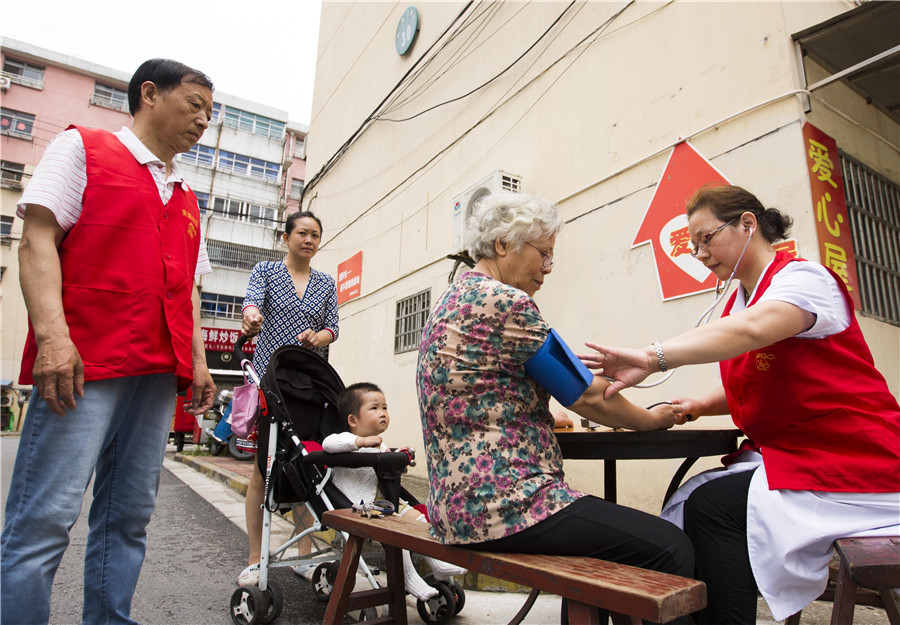 Memory aids
"The simplest way to control blood pressure is with medication, but the challenge is remembering to take the pills," Anderson said, adding that it is not just a problem in China, but around the world. "We are human, we forget, we get distracted."
Those human failings have prompted the introduction of measures that help people to remember to take their medication.
One method that has proved effective in Australia is SMS messages sent to patients' mobile phones that provide reminders in a personalized, relevant, fresh and simple manner, such as: "Good morning, XXXX. How are you feeling today? Did you take your pills? How's the exercise program going? Have you given up cigarettes today?"
Although strokes can happen at any age, even in babies, the problem is most acute in older people, and there are age disparities in different countries. For example, the average age of Chinese stroke patients is 65, while it is about 75 in Western countries, according to Anderson.
"It's linked very closely to getting older, because of the hardening of the blood vessels," he said. "They harden as you get older, your heart gets a bit bigger and you get a bit fatter, and that puts a bit more strain on your circulation and heart."
A report published in January by Peking Union Medical College and the Chinese Aging Well Association estimated that next year more than 250 million people in China will be age 60 and older - accounting for almost 20 percent of the population - while the country will officially become an aging society in 2026.
The report said the rapid rise in the aging population will pose challenges to economic growth because a shrinking number of workers will have to pay the rising social security bill.
It estimated that spending on elderly people, such as medical care and pensions, will account for 26.24 percent of GDP in 2050, compared with 7.33 percent in 2015.
Financial hardship
When Anderson arrived in China 15 years ago, he realized that about 20 percent of stroke patients experienced "financial hardship", meaning they had to sell personal items and borrow money to pay medical bills.
"Now, the government has introduced the health insurance program, which is very important for supporting people during a crisis so they can enjoy good healthcare, recover, and return to work and their normal lives without suffering a financial crisis," he said.
Despite that, long-term hypertension and the complications it brings will still cause serious problems for families and the economy.
The WHO estimates that major noncommunicable diseases will result in a loss of approximately $500 billion annually from 2011 to 2025 - equal to about 4 percent of the combined GDP of low-and middle-income countries - and cardiovascular conditions, including hypertension, will account for nearly half of that figure.
In 2012, the cost of treating chronic noncommunicable diseases in China, which resulted in 80 percent of deaths among elderly people, accounted for 70 percent of the total spent on treating illnesses. As a result of the country's rapidly aging population, the figure is expected to rise by at least 40 percent in 2030.
In its 2013 report, the WHO said national health information surveillance systems must be strengthened to monitor the impact of government measures designed to prevent and control high blood pressure and reduce the risk of premature death and economic loss.
In addition, people should adopt healthier lifestyles and diets by eating more fruit and vegetables, while cutting out smoking and excessive drinking, and reducing their salt intake.
Anderson said it is crucial to ensure that those in need receive treatment and counselling, especially patients in rural areas who may be at greater risk as a result of poor access to preventative measures and treatment.
However, despite the challenges posed by the rapidly aging population and increasingly unhealthy modern lifestyles, he believes that there are reasons for optimism.
"One of the great things in China is that you can change things so quickly. You have a very efficient way of formulating measures and turning them into policy," he said.