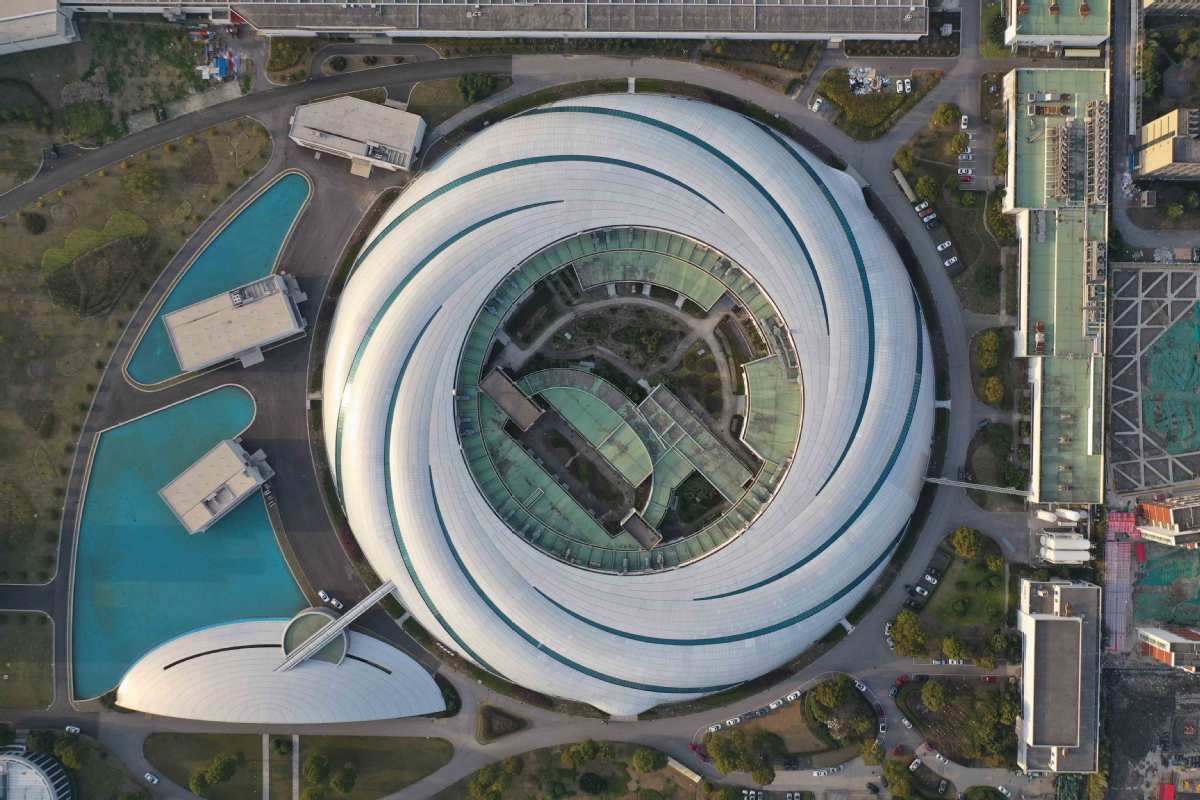 The Shanghai Synchrotron Radiation Facility - which represents a major step in Shanghai's journey to become a world-leading science and technology innovation center - will see its research capability more than double within the next three years, the facility's director said on the center's 10-year anniversary on Monday.
Zhao Zhentang, the director, said there will be 40 beam lines and 60 laboratories in operation at the facility by 2022, up from the current 15 beam lines and 19 laboratories. Over the past decade its area has doubled to 107,100 square meters, he said.
The facility, the first large science project jointly invested by the central government and the municipal government of Shanghai, in involved in frontier scientific research in various fields, including life sciences, new materials, physics, chemistry, environmental sciences and archaeology. It is by far the largest scientific project in China.
While there were only 300 users when the facility opened in 2009, the number has surged to more than 24,600. There are nearly 100 overseas users now, mainly from the Republic of Korea, Japan, Australia and Canada. The facility operates 7,000 hours a year.
Shi Erwei, a senior researcher at the Shanghai Zhangjiang Comprehensive National Science Center, said a large number of Nobel laureates in physics over the past few decades have made breakthroughs at large scientific installations.
In 2013, China Petroleum and Chemical Corp announced a 380 million yuan ($56 million) investment to build three beam lines at the facility.
Shi said this signals that China's scientific research has entered a new age in which the government teams up with companies to co-invest in large scientific projects, while in the past the government had to shoulder all the responsibility.
He added that such large scientific projects would not be able to stand without the support of the country's manufacturing industry.
"But the stable, ongoing operation of large scientific projects is much more important than simply building them. It is only when they can run in the manner of public utilities, such as subways, that they can be defined as complete, high-end scientific projects," he said.
Xu Hongjie, a senior researcher at the Shanghai Institute of Applied Physics, participated in writing the design report for the radiation facility a decade ago. He said it was a great delight to see it operating in line with industrial standards throughout the year, as some other similar facilities in China only operate for short periods.
The radiation facility is one major part of a cluster of large-scale radiation scientific projects in Zhangjiang, where one of the country's three comprehensive national science centers is based. Seven other major projects such as beam line stations, hard X-ray free-electron laser equipment and soft X-ray free-electron laser equipment, form a cluster with a total investment of around 13.8 billion yuan, 71.2 percent of which will come from the municipal government of Shanghai. All eight projects will be completed and operational by 2025.
If you have any problems with this article, please contact us at app@chinadaily.com.cn and we'll immediately get back to you.