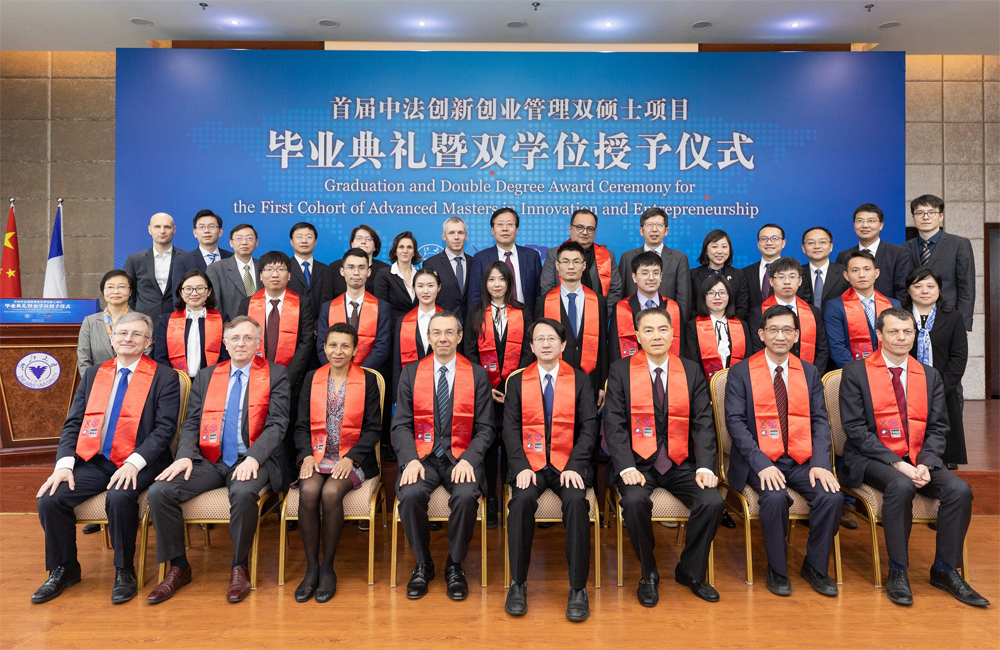 A graduation ceremony was held Sunday at the Zijingang Campus of Zhejiang University for the first graduating cohort of the Sino-French dual degree master's program in innovation and entrepreneurship.
Wu Zhaohui, Zhejiang University's president, joined with his counterparts from École Polytechnique, ENSTA ParisTech and Télécom ParisTech in France to celebrate the program's milestone and the achievement of 10 graduating students.
Accredited by the French Conférénce des Grandes Écoles (CGE), this master's program is a result of the longstanding partnership between Zhejiang University, École Polytechnique, ENSTA ParisTech and Télécom ParisTech.
Participants spend their first two semesters at the university and the third semester taking courses at the three partner French engineering schools, known as the "Grandes Écoles d'Ingénieurs". There, they learn from top faculty members at the partner institutions and develop a more international outlook during their academic career.
During their final semester, students return to the university for preparation and defense of their master's thesis.
In total, 31 master's candidates from the Polytechnic Institute of Zhejiang University have been enrolled in the program since its launch in September 2016.
The history of the program can be traced back to 2011, when the university and ParisTech officially confirmed their partnership by signing an MoU at the institutional level.
Since then, frequent mutual visits and multi-level collaborations have been carried out between the university and the three partner institutions. Crafted with the best aspects the Chinese and French education systems, the program is a testament to the mutual benefits of international collaboration and cooperation.