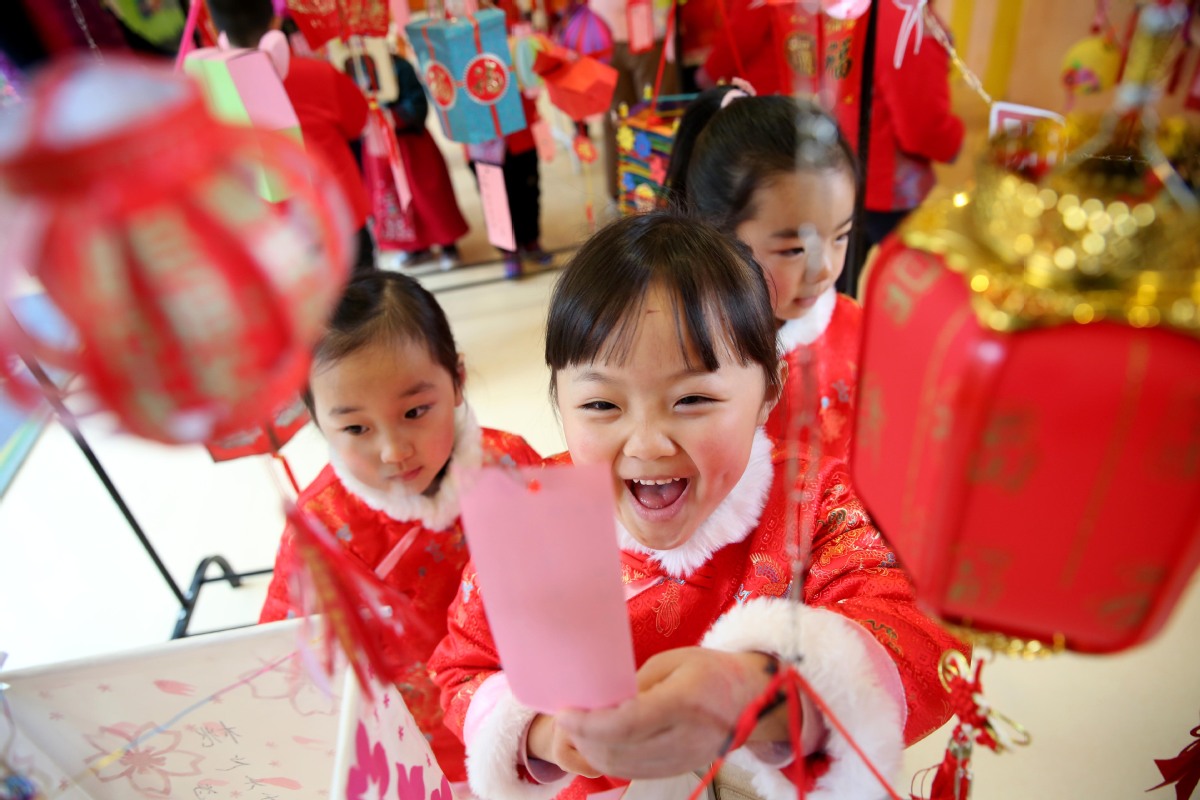 Many couples find lack of facilities a disincentive to building larger families
More support is needed to build nurseries and day care centers to ease burdens on parents and aid implementation of the universal second-child policy, national legislators and political advisers urged during the two annual meetings in China.
They made the appeal amid public concern over consecutive drops in the number of births in China over the past two years, caused in part by a general unwillingness of young couples to give birth to a second child.
"In addition to financial concerns, difficulty in finding caretakers for children is an important reason why many young couples do not want to have children," Huang Yuguang, a member of the National Committee of the Chinese People's Political Consultative Conference, China's top political advisory body, said during the CPPCC's annual session, which concluded on Wednesday in Beijing.
In China, about 70 percent of working age women are employed, and many women hesitate to have a second child due to concerns that caring for another child will affect their career, Huang said.
"Even if young parents prepare to spend money to find good day care facilities, there is a shortage of such facilities, even in big cities," said Huang, who is head of Peking Union Medical College Hospital's anesthesia department.
"I suggest that the government provides special support, including financial assistance, to institutions and companies where more women of childbearing age work to help them create their own day care facilities," he said. "Such a measure will free employees from worries over how to look after their children during working hours. Meanwhile, babies can have access to breast-feeding if they are nearby their mothers."
China adopted a universal second-child policy in 2016, allowing all couples to have two children, to counter rapid aging of the population and a dwindling workforce.
That year, 17.86 million babies were born, the largest number since 2000. But the number fell by more than half a million in 2017, and by another 2 million to 15.23 million last year, according to the National Bureau of Statistics.
Population experts have warned that the decreasing number of births will continue over a long period due to a lower number of women of childbearing age and a reluctance to have more children.
Gao Xiaomei, another member of the CPPCC National Committee, said public services for infants are lacking due to an insufficient government budget and a dearth of standards and regulations for such services.
"We can learn from experiences abroad and accelerate research to build an agency specially charged with infant services," she said. "The government should intensify its role in providing support and guidance in establishing a day care service system, and more measures should be rolled out to encourage individuals, enterprises and communities to develop and provide such services."
Qian Fangli, a deputy to the National People's Congress, the top legislature, suggested during the ongoing session of the body in Beijing that authorities include day care services for children under 3 years of age among public services, and provide more financial support for such services so that more facilities can be built.
Meanwhile, authorities can take measures to encourage private investment in the sector, and encourage employers and communities to establish their own nurseries to serve employees and residents.
"Developing such services can help couples ease worries over having children, and it can also contribute to economic growth," said Qian, also chief for e-commerce and information at the Ministry of Commerce.