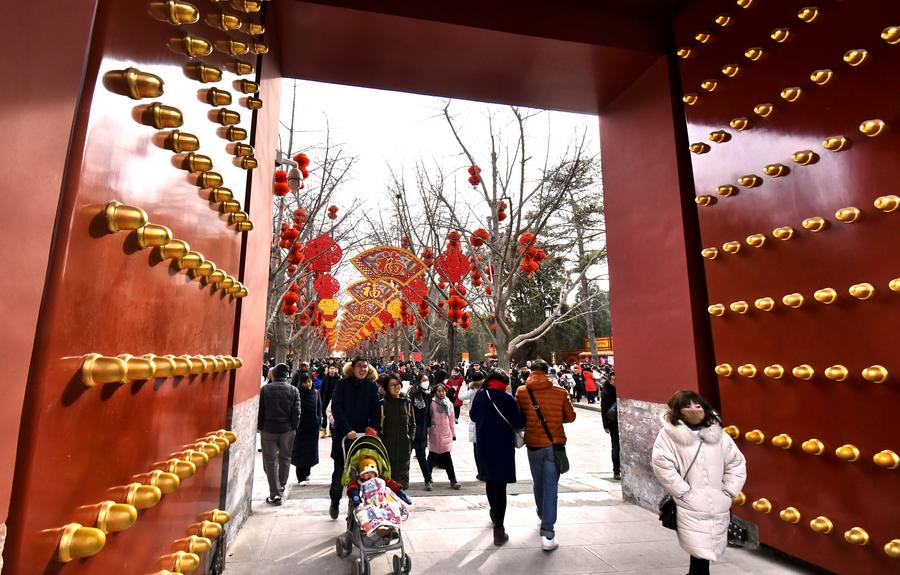 China's domestic retail and catering sectors posted sales of 1.005 trillion yuan ($149.05 billion) during the week-long Spring Festival holiday that ended Sunday, an annual increase of 8.5 percent, according to the Ministry of Commerce.
China's consumption upgrade is continuing, the ministry said, adding that some emerging consumption such as internet consumption, customized consumption, experience consumption and smart consumption were the highlights during the holiday.
Green food, intelligent home appliance, new digital products and local special products maintained rapid growth, according to the ministry.
Emerging service modes such as shopping malls and outlets encompassing catering, shopping and amusement became more popular during the holiday.
Sales in seven major shopping malls and outlets monitored by the Shanghai government rose more than 20 percent year-on-year, while in East China's Anhui province, sales in some malls jumped 11.6 percent year-on-year.
Meanwhile, experience consumption, including leisure tourism, film and expo, folk activities, rose.
During the first six days of the holiday, eight key tourist attractions in Sanya, South China's Hainan province, received more than 800,000 visitors. Domestic box office revenue exceeded 5 billion yuan, and nearly 500,000 people visited Beijing's Palace Museum.
Internet element was also a bright spot during the Spring Festival holiday. Statistics from the ministry showed that some e-commerce platforms experienced a 40 percent sales growth, with smartphones, medium- and high-end home appliance, household products, fashion apparel becoming best sellers.
Some catering enterprises and internet platforms also introduced prepared and semi-prepared dishes for the Lunar New Year's Eve dinner, also known as the family reunion dinner. Meanwhile, many chefs offered their services online, offering to cook in person at a customer's home.