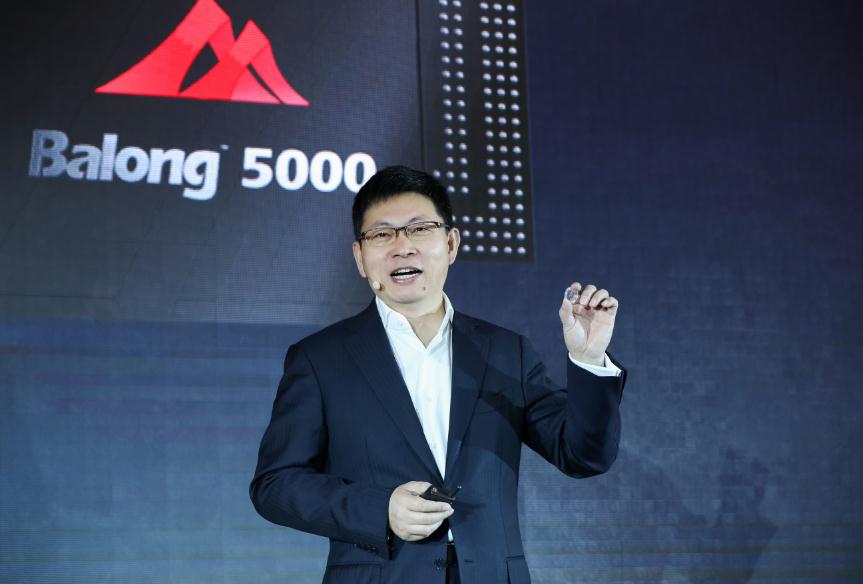 Move represents latest push in fueling consumers' interest to upgrade devices
Huawei Technologies Co Ltd will unveil its first commercial 5G foldable smartphone in February, as the Chinese technology giant seeks to overtake Samsung Electronics Co Ltd to be the world's largest smartphone vendor.
Yu Chengdong, CEO of Huawei's consumer business group, said the foldable handset will be equipped with its 5G modem Balong 5000, which the company described as the most powerful 5G modem in the world.
Yu said Balong 5000 is the world's first 5G modem that fully supports both non-standalone and standalone 5G network architecture, which can greatly widen its use scenarios.
Analysts said the modem is designed to compete with the US chip giant Qualcomm Inc's X50 modem in performance. Huawei underlined that it will not sell Balong 5000 as a standalone product, but just use it in its own smartphones.
The 5G foldable smartphone, to be unveiled at the Mobile World Congress 2019 in Barcelona, Spain, is Huawei's latest push to fuel consumers' interest to upgrade their devices after the global smartphone market hits a saturation point.
The move also came after Huawei's consumer business posted a record $52 billion in sales in 2018, driven by the strong demand for its premium smartphones. The company shipped more than 200 million units of smartphones worldwide last year and surpassed Apple Inc as the world's second largest smartphone vendor.
On Thursday, Huawei, the world's largest telecom equipment maker, also unveiled its first chipset for 5G base stations. The chip, named as Tiangang, can support a bandwidth of 200 megabytes and reduce the weight of a 5G base station by half.
Ding Yun, president of Huawei's telecom carrier business group, said the company has shipped over 25,000 5G base stations globally, up from the figure of 10,000 it disclosed in late December.
"We have so far acquired 30 5G contracts, with 18 from Europe, nine from the Middle East and three from the Asia-Pacific region," Ding said.
Wang Yanhui, secretary-general of the Mobile China Alliance, an industry association, said despite the difficulties Huawei is facing in overseas markets, including cyber security allegations, the company is steadily gaining clients, with more 5G base stations shipped.
"The trust between Huawei and some telecom carriers can help the former better navigate the choppy waters. It also reflects Huawei's technological superiority," Wang said.
The company's 5G foldable smartphone plan came after its rival Xiaomi Corp unveiled an engineering gadget on Wednesday, which can be bent and rolled to function both as a smartphone and a tablet.
"This year will see the first batch of 5G smartphones and foldable handsets respectively. Those which can bring the two together will turn out to be highly competitive in the market," said Fu Liang, an independent telecom analyst.
China Mobile, the country's largest telecom carrier, said in December that the first batch of 5G smartphones will be priced at above 8,000 yuan ($1,166), and more than 30 commercial 5G devices are likely to hit the market in 2019.
If you have any problems with this article, please contact us at app@chinadaily.com.cn and we'll immediately get back to you.