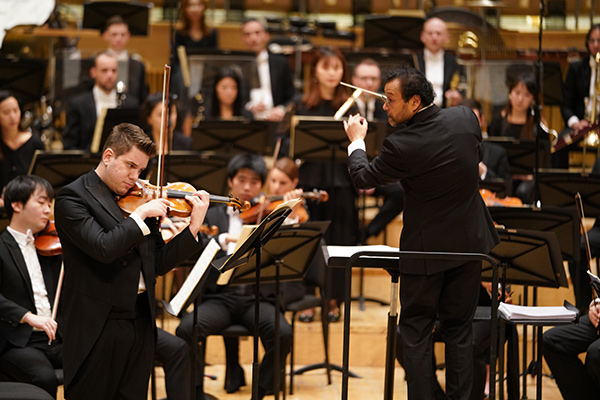 American composer Christopher LaRosa got curious about this year's Jinji Lake International Composition Competition, launched online by the Suzhou Symphony Orchestra in April, after reading about it.
LaRoas, 28, had not been to China and knew little about the city of Suzhou in Jiangsu province.
After doing some research, he decided to join the competition and submitted his 10-minute composition, entitled Towers of Suzhou.
"I started from maps, lots of maps and I learned that China is a very big country and Suzhou is an ancient city," says LaRosa in Suzhou, adding that his piece was inspired by the city's ancient pagodas that he compares to modern skyscrapers.
The piece describes a journey through the streets of Suzhou, combining ancient and modern influences.
In November, he flew to Suzhou as one of the six finalists of the competition. His work was premiered by the Suzhou Symphony Orchestra on Saturday.
"It's an amazing experience to actually come to Suzhou and see my work come alive onstage with a full orchestra," says LaRosa, who started learning the piano young and holds a music arts degree from the Indiana University Jacobs School of Music.
"I spent a week traveling around the city and it felt like a dream to visit the city, which I saw on maps months ago."
The competition attracted musicians from 39 countries and the final six works were selected from 142 applied works. Eight works centering on Suzhou were premiered by the Suzhou Symphony Orchestra on Nov 27, including The Legend of Tiger Hill by Chinese-American composer Wang Zhiyi, a Suzhou native; and The Woman in the Gardens of Suzhou by German composer and conductor, Christian Jost.
After Saturday's concert, winners of the competition were announced by the judges, including Chinese conductor Chen Xieyang and Chinese composer Xu Mengdong, who is also the chairman of the competition jury.
While the committee of the competition announced that the first prize was vacant, the second prize has been awarded to two composers, Chinese composer Sheng Meng, 25, who is pursuing his master's degree in composition at the Shanghai Conservatory of Music, and South African composer, Conrad Asman, 22, who is studying at the South African College of Music.
Sheng's work, Painting of Suzhou's Golden Age, is based on Suzhou-born, Qing Dynasty (1644-1911) artist Xu Yang's painting of the same title, which depicts life in the city.
Asman's piece, Two-faced Tapestry, portrays the art form of traditional Chinese embroidery.
"The competition introduces lots of new music, which is unique and depicts Suzhou from different angles. In South Africa, there are only three orchestras and they rarely play new music. The music scene here in China is vibrant," says Asman, who also paid his first visit to Suzhou for the competition.
The Suzhou Symphony Orchestra, which celebrated its second anniversary on Nov 18, is an orchestra of more than 70 musicians from about 20 countries and regions, including China, Japan, South Korea and the United States, with 30 being the average age of musicians.
The Jinji Lake International Composition Competition is the second international event held by the Suzhou Symphony Orchestra in 2018 after the first one held in 2017.
"It's not easy to launch a symphony orchestra from zero," says Chen Guangxian, general manager, Suzhou Symphony Orchestra.
Chen, 64, is a former head of the Shanghai Symphony Orchestra.
"Now that the Suzhou orchestra has toured worldwide. We want to widen its influence and attract international musicians with such competitions."
Chen says the composition competition requires the applicants to submit works that reflect the contemporary spirit, the traditional flavors and atmosphere of Suzhou.
"We've seen that many young composers borrow the city's old art forms, such as ping tan, an ancient form of singing and storytelling that dates back 400 years, and Kunqu, one of the oldest Chinese operas that dates back more than 600 years, and their works are diversified," Chen says. "For the foreign musicians, it is challenging to compose for a foreign culture. But we have been surprised by their creativity and imagination."
Chen says the piano competition and composition competition will be held every three years.
As the director of China's Symphony Development Foundation, a nonprofit, Chen says the number of symphony orchestras in the country has grown over the past few years. There were about 30 professional symphony orchestras four years ago, and by last year that had grown to 82. That presents opportunities not only for young Chinese musicians but also for musicians from around the world.
If you have any problems with this article, please contact us at app@chinadaily.com.cn and we'll immediately get back to you.