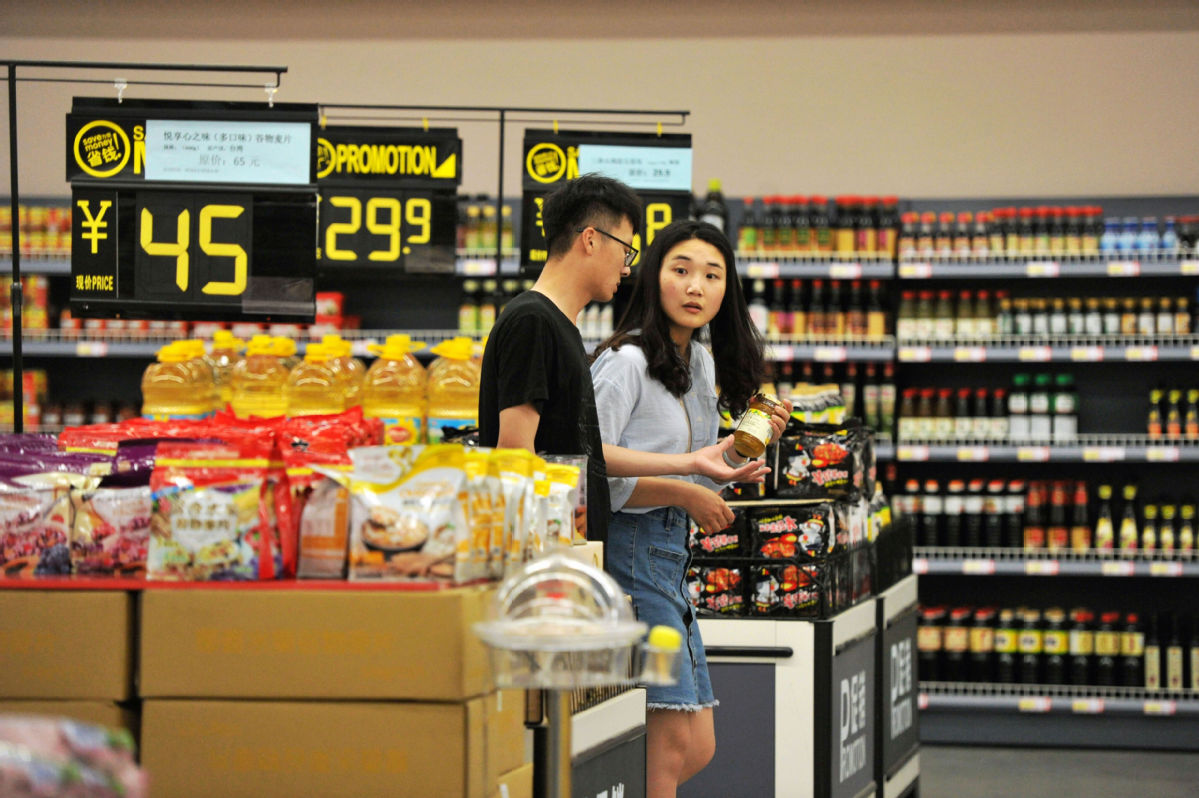 In China's fast-moving consumer goods or FMCG sector, digitalization, New Retail and targeted product launches are increasingly giving Chinese brands a clear edge over foreign labels, according to a new research report and experts.
Local brands' lead is also due to higher penetration rates and stronger volume growth relative to price growth, according to the report published jointly by Kantar Worldpanel and Bain&Co.
Between 2015 and 2017, the so-called insurgent local brands had just a 6-percent share of the 33 categories these local insurgent brands represent, but delivered nearly 20-percent of value growth in their sub-categories.
Two-thirds of the 46 insurgent brands studied expanded at least twice faster than their category average, while selling their products at above-average prices, the report said.
This is despite the fact most local insurgents are relatively small in scale compared with category leaders, with half of them falling into the urban sales revenue range of 100 million yuan ($14.52 million) to 500 million yuan.
"These insurgents demonstrate an entrepreneurial mission, Chinese consumers' focused innovations, and more speed and agile operating models, which are giving them an advantage in this ever-changing market," said Bruno Lannes, a partner in Bain's consumer products practice in China and a co-author of the report.
Experts said local brands' digitalization effort takes into account consumer preferences. They also embrace the New Retail strategy, which is all about linking the online and offline channels to deliver interesting consumer experiences. Local brands also incubate hit products or launch product variants in a timely way.
Many insurgent brands focus on high-traffic online platforms such as Tmall and JD, and are quick to use up-and-coming social commerce and social media platforms like Pinduoduo and Douyin, said Jason Yu, managing director of Kantar Worldpanel in China and one of the co-authors of the report.
He referred to the emerging cosmetics brand Marie Dalgar, which teamed up with fried chicken brand KFC for joint campaigns and advertising activities, pulling in traffic from KFC's huge consumer base. Their campaign generated 1.4 million visits to Marie Dalgar's official e-store on Tmall, which translated into 12 million yuan in sales.
The makeup specialist also rolled out pop-up stores featuring an augmented reality mirror to link offline consumers' experience with their online purchases.
Experts also highlighted the smooth use of social media for brand promotions. Juice vendor WeiQuan Daily C, for instance, collaborated with a Chinese online reading platform Migu Reading for a campaign that allowed consumers to customize their beverage bottles. The campaign quickly went viral.
Another key to the success of high-growth insurgent brands is their decision to have narrow product ranges, according to Derek Deng, a Bain partner who also focuses on consumer products.
Local brands typically focus on one or two "hero" stock-keeping units that target one specific market niche, he said. "This eliminates unnecessary product complexity and ensures that an insurgent brand's limited resources are devoted to a very focused message to the target audience."
The implications for foreign brands operating in China are that they should localize product design, remain agile and nimble in terms of organizational structure, and be fast in responding to market situations, experts said.
For instance, local snack chain Bestore, based in Wuhan, Hubei province, devised a dual-track operating model - that is, it included both product managers and marketing teams in its new product development force to expedite the process, Deng said.
The development cycle for certain products at Bestore was effectively shortened to two months, contributing to the rollout of 400 new SKUs per year, eclipsing many Western peers.
If you have any problems with this article, please contact us at app@chinadaily.com.cn and we'll immediately get back to you.