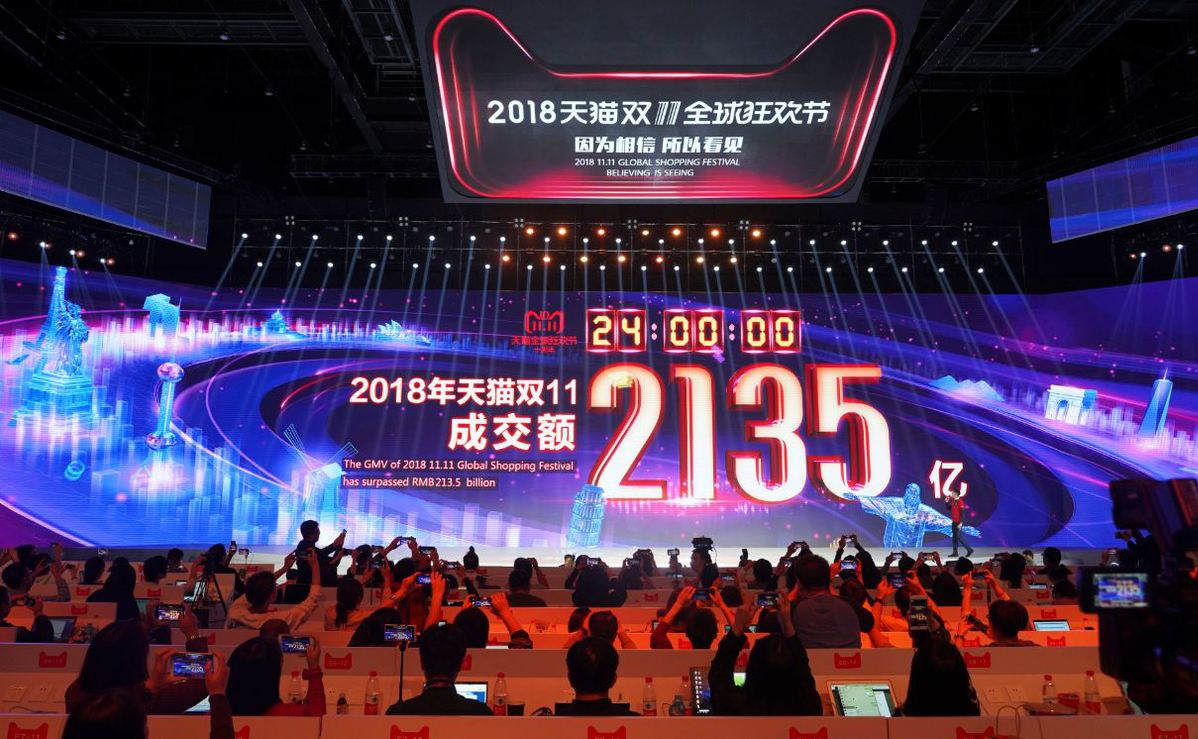 Chinese consumers shrugged off any concerns over a slowing economy by snapping up goods and services from home and abroad during the Singles Day online shopping gala, which falls on Nov 11 each year.
And the one-day annual buying frenzy broke last year's record.
The 24-hour shopping flurry, which is celebrating its 10th year, is the latest exemplification of how domestic consumption is increasingly becoming a major economic growth driver and is unlikely to be overshadowed by temporary trade frictions, experts said.
Sales numbers on Alibaba Group's online shopping platforms rolled fast and furious since the clock struck midnight and Sunday began.
The Tmall site smashed the 10 billion-yuan ($1.44 billion) threshold in just two minutes and five seconds, trimming roughly one-third of the time needed to hit that mark set a year ago.
Cao Lei, director of the China E-commerce Research Center, projected earlier in the day that Tmall's 24-hour sales would top 200 billion yuan this year (compared with 168.2 billion yuan in 2017).
"Spending per customer has seen a several-fold jump in the past few years, and customers are swarming to quality, customization and even luxury goods online," said Cao. "We definitely see a holistic upgrade across consumption, branding, supply chain and even the manufacturing cycle."
Imported products are gaining notable traction among buyers who are willing to pay more for quality. It took just over six hours for cross-border online transactions to reach last year's full-day record on Tmall Global, the dedicated cross-border portal.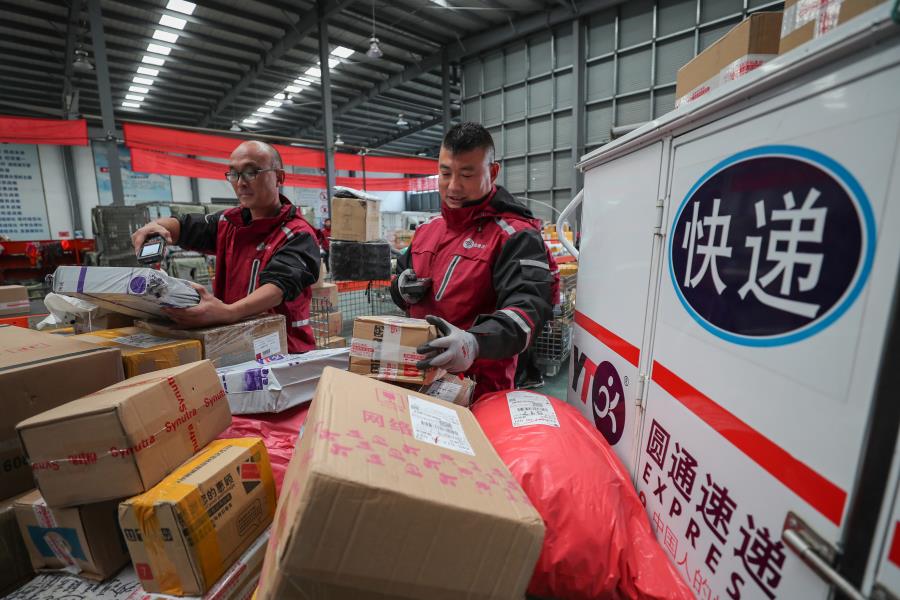 For instance, beauty products from Japanese cosmetics specialist Kao and Dyson hairdryers booked 10 million yuan respectively in sales in the first hour of trading on Sunday, according to Alibaba.
The trend echoed research by global consul­tancy Oliver Wyman, which revealed that around 57 percent of surveyed consumers intend to buy overseas goods, with sales expected to make up one-third of total consumer spending.
In addition to Singles Day, global brands will definitely see China as one of its most promising markets year-round and the country is becoming a solid growth engine, said Jason Yu, China general manager of Kantar Worldpanel.
"The vast population base and the unleashed consumption power from smaller cities, townships and rural areas are magnets for international brands," Yu said.
"Temporary trade frictions are unlikely to undermine such robust momentum," the manager added.
Nov 11 is not just about selling a lot of products to consumers, but a time where "we test our supply chain system and our new products, or even better, we test new ideas", Joost Vlaanderen, president of Mondelez China, the company behind the iconic Oreo cookie, told Alibaba's news portal Alizila.
Echoing China's grand opening-up policy at a commercial level, this year's shopping gala is set to become a natural extension of the just-concluded China International Import Expo in the digital space, serving as the bellwether of the latest global business practices, said Chu Yin, a professor at the University of International Relations in Beijing.
Wang Xiaofeng, senior analyst at consultancy Forrester, said gross merchandise volume generated in the 24-hour festival will no longer be a critical focus.
The event evolves from a pure discounting occasion to a test bed for new commerce initiatives and emerging technologies being applied in online shopping scenarios, Wang said.
Contact the writer at hewei@chinadaily.com.cn
If you have any problems with this article, please contact us at app@chinadaily.com.cn and we'll immediately get back to you.