A clerk in Hangzhou has become the lucky winner of gift packs for the November 11 shopping festival, said Tmall, a brand of Chinese e-commerce giant Alibaba Group, on Tuesday.
"Unbelievable!" Lv Lifang, the clerk, said. "It is really a big surprise". Lv hit the jackpot against an odd of one in 75 million Weibo users who participated in the lucky draw campaign. Tmall made the official announcement on Sina Weibo.
After sharing some gifts with her family members, Lv said she plans to donate some of her winnings for public assistance to "help lost kids find their way back home."
Despite the fact that the unexpected gifts would likely result in 100 million yuan ($15 million) worth of reward, Lv said she would continue to work and her life would not change.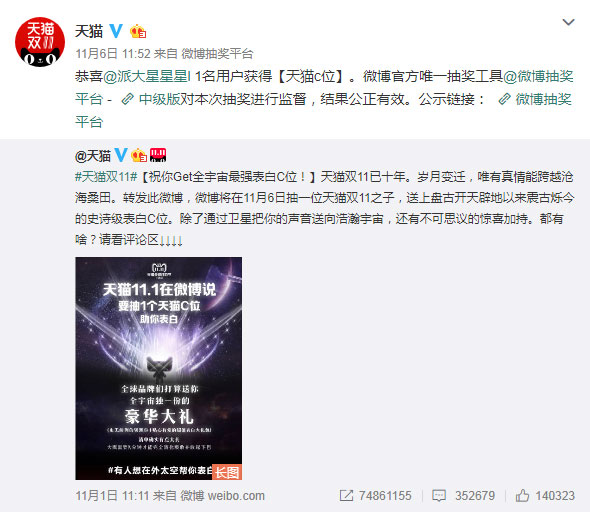 Apart from the gifts, Lv would be honored with a personalized gift that would help beam her message, like expression of love, out into outer space before November 11.
The day, also known as Double 11, got its name from the fact that the numbers 11-11 resemble four lonely sticks. And it has long been recognized as a celebration of single people in China, as well as an annual day-long online shopping festival.
Earlier in Oct, a free bill lucky draw organized by Alipay, Alibaba's payment arm, became an internet sensation overnight when a female IT engineer beat three million Weibo users in a contest.
Kind-hearted people should win prizes, a netizen said on Weibo. Many thought Lv to be positive and deserving of the gift. The grand prize features a long list of items that cover all aspects of life, including online shopping voucher and products from luxury brands.
If you have any problems with this article, please contact us at app@chinadaily.com.cn and we'll immediately get back to you.