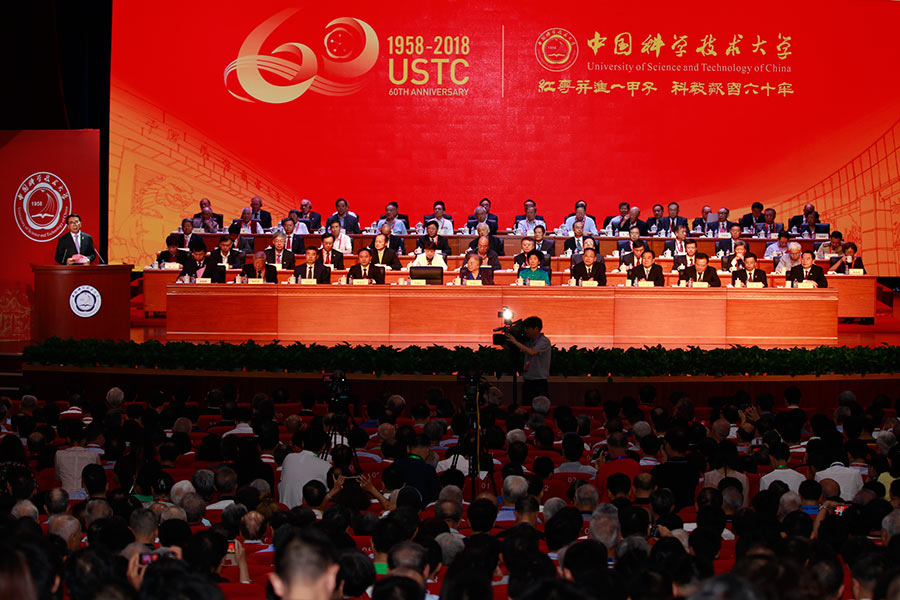 More than 3,000 alumni of the University of Science and Technology of China gathered in Hefei, East China's Anhui province, for a celebratory event to mark the university's 60th anniversary on Thursday.
As one of the country's top universities, USTC was founded in Beijing in 1958 and moved to Hefei in 1970.
"It was established at a time when the country urgently needed to strengthen its research for all-around socioeconomic development, but lacked high-level professionals," said Bai Chunli, president of the Chinese Academy of Sciences, to which USTC is affiliated, at the gathering. Bai is also the honorary president of USTC.
Since its establishment, USTC has focused on developing science and technology in frontier areas and educating future leaders in science and technology for China and the world, said Bao Xinhe, president of the university.
One of the latest major achievements of the university mentioned by Bao is that it developed and launched the world's first quantum satellite for experimental use in 2016.
Among its alumni, 32 have become generals in the army and 73 have become CAS academicians. The academicians include the 77-year-old Zhao Zhongxian, who won the country's Highest National Award of Science and Technology in 2017. He addressed the gathering on behalf of USTC alumni and recalled his days in the university from 1959 to 1964.
The university has seen over 140,000 graduates in the six decades, including undergraduate, postgraduate and doctorate students, according to Bao.