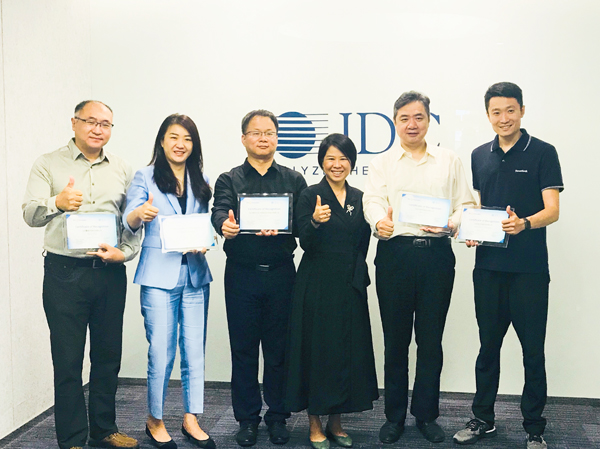 Six Chinese startups in the fields of cybersecurity, and artificial intelligence (AI) were each granted a certificate as an IDC Innovator in Beijing on Wednesday.
The IDC Innovator program was launched by International Data Corporation (IDC), a global market consultancy, in China two years ago. It aims to introduce new information technology suppliers with innovative technologies or business model breakthroughs to technology buyers and build bridges to bring innovative startups and investors together.
Kitty Fok, managing director of IDC China, said through the IDC Innovator program the company wants to show how startups from China will influence the world.
Threatbook, a cybersecurity service provider focusing on the threat intelligence filed, was one of the six IDC Innovators that stood out from more than 150 Chinese startup candidates.
Since its establishment in Beijing in 2015, the startup has been recognized by the industry through its intelligence-driven security products and active response to major domestic and international security incidents, such as XCode-Ghost, DarkHotel, SWIFT and WannaCry, James Wang, senior research manager of Enterprise Research, IDC China, said.
Mininglamp, an industry AI solution provider that focuses on the fields of public security, finance, industry and internet of things, also is an IDC Innovator.
Having launched Nest, the first knowledge graph database in the Chinese market, and enterprise-level AI entrance LiteMind, Mininglamp is developing fast with industry applications and rich practice cases, Lu Yanxia, senior research manager of Enterprise Research, IDC China, said.
Against the background that the digital economy is coming and the supply-side structural reform, mass entrepreneurship and innovation have been promoted, the mission of the program is to show China's power of innovation, Xue Yu, research manager of Internet and Blockchain, Emerging Technology, IDC China, said.
He said to become an IDC Innovator, a startup, with its annual revenue below $100 million, needs to have an innovative business model or technologies and can provide specific commercial use cases of its products, services or business models.