'Plogging', a combination of trash collection and jogging, is growing in popularity among socially aware fitness fans. Zhang Yangfei reports.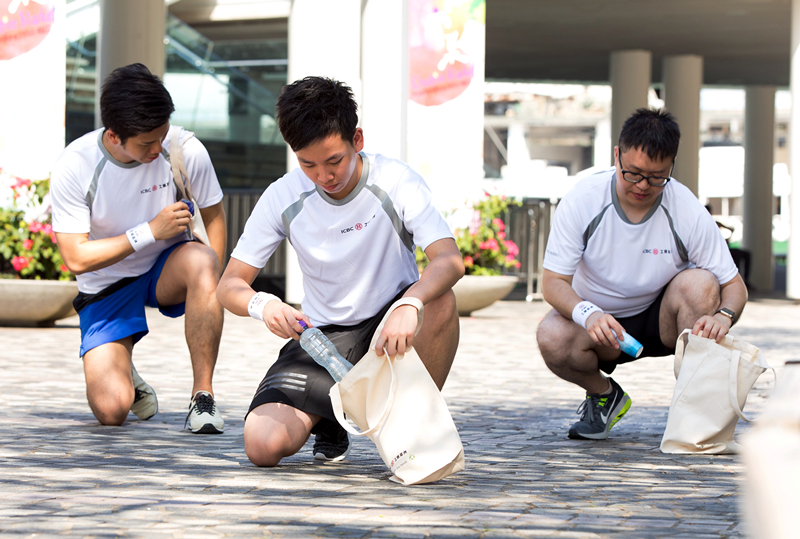 If you take a casual after-dinner stroll in downtown Shanghai on a Wednesday evening, you may bump into an unusual group of joggers.
They are easy to spot; each member swings a pair of long bamboo tongs back and forth in one hand, while holding a plastic bag in the other.
If you are standing still, they may suddenly halt in front of you and use their tongs to search the area around your feet.
There is no need to be worried, though, because they don't have a problem with you, but rather with what may be lying near your shoes - litter.
They bend down, reach out with their tongs and pick up any litter lying on the street. It doesn't matter if it's a water bottle, fruit peel or a cigarette butt, they toss it in their plastic bags and then carry on jogging.
Their number varies - sometimes it's seven, sometimes 10 or even many more - while their ages range from 18 to 50. Some are Shanghai natives, while others are expats.
Every week they show up at various locations in the city and collect litter as part of their usual 6-kilometer run.
They are Trash Running China, a group dedicated to "plogging", a fast-growing trend dedicated to eco-friendly jogging.
Growing trend
Though plogging is new to China, it's been a feature of life in Sweden since 2016. The name derives from two Swedish words, plocka and jogga, meaning "to pick up" and "jogging".
The use of plogging-related posts and hashtags has facilitated a growth in popularity that has made headlines in more than 40 countries, including some in Asia, such as India and Thailand.
China is catching up fast, or to be more accurate it was never left behind.
Plogging first made headlines last year when Nanchang Evening News in Jiangxi province reported that a local man had been picking up trash while jogging for more than six years.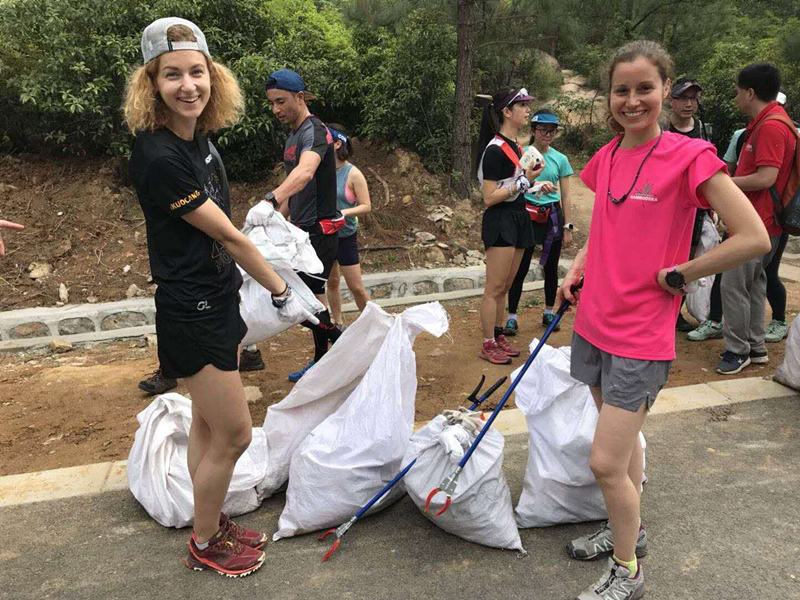 In recent years, many urban Chinese who run to maintain a healthy lifestyle have complained about the abundance of plastic trash on city streets.
In response, some focused on zero-waste lifestyles by recycling and reducing their use of packaging, while others adopted new ways of spicing up their workouts.
In February, Swiss national Celina Eisenring asked her Hungarian friend Katalin Sogor, "Why not pick up trash while we run? We can have fun together while doing our bit to tackle the waste problem."
That was the start of Trash Running China.
The two women, who regard Shanghai as their home, started by setting up a WeChat group for a few friends in March. Word spread quickly and their number soared to about 250 within a few months.
Yuan Dawei, 41, who took up marathon running three years ago, described plogging as "a very interesting idea" that can help the environment.
"As an experienced runner, this type of activity is quite easy for me, but it's also meaningful," he said.
In addition to its regular Wednesday night runs, the group organizes monthly trips to the suburbs or mountain trails for longer workouts.
Having held events in cities such as Suzhou, Jiangsu province, and Wenzhou, Zhejiang province, Trash Running China now aims to spread across the country.
In June, Industrial and Commercial Bank of China organized a volunteer plogging event in 280 places nationwide, from megacities such as Beijing and Shanghai to villages on the plateaus and grasslands. More than 13,000 people took part.
Yang Yang, a volunteer from Huanggang, Hubei province, who is a regular treadmill runner, did not hesitate to sign up, even though it was the first time she had heard of plogging.
"When I saw the advertisement, I realized I could not only enjoy a run but also do something for the environment, so I thought 'Why not?'"
She recalled that the event took place on a sweltering day, and many local people were relaxing or walking in the park when her plogging group arrived and started picking up trash. While some passers-by stared at the "strange" activity or took photos, others were motivated to join in.
"I was amazed to discover that other regular joggers were also picking up cigarette ends and wastepaper as they ran. They had obviously done it before. I believe this kind of running can only become more popular," she said.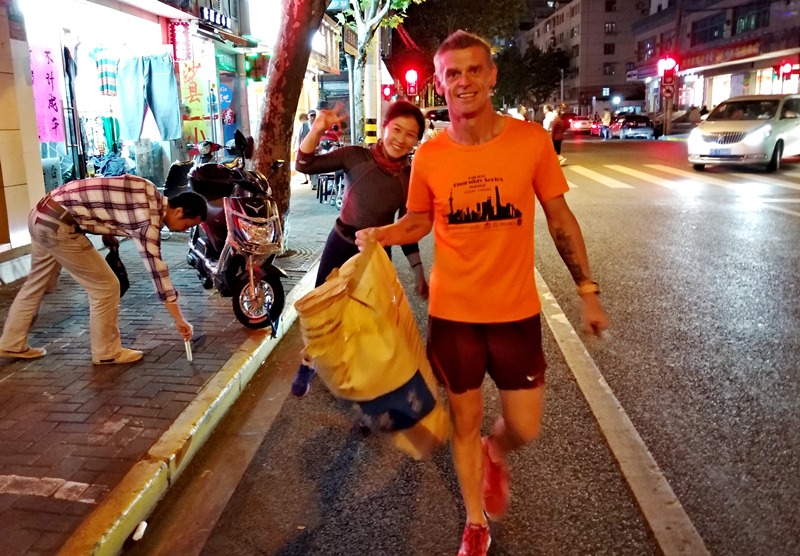 Catching the bug
In recent years, China has caught the running bug in a big way.
Last year, more than 1,000 marathons were held in the country, from 22 in 2011. In 2016, the number was 328, while 134 races were held in 2015, according to the Chinese Athletic Association.
Zhu Yong, an associate professor in the Sports Department at Guangdong University of Foreign Studies in Guangdong province, wrote in a study paper that the growing popularity of running has been fueled by the rise of China's middle class and higher disposable incomes.
Stimulated by affluence, middle class people are paying greater attention to their wellbeing and self-esteem, so fitness and recreation have become the nation's new luxuries. Running satisfies their needs because it not only improves the health and tones the physique, but also builds stamina which reflects a strong mentality, Zhu said.
Regular runners, especially those who run outdoors, are highly sensitive to their surroundings so it's little surprise that the running boom has coincided with greater public awareness of environmental problems, she added.
For example, in 2014, when the Beijing Marathon was held on a heavily polluted day, many runners wore face masks as a quiet protest about unclean air.
Photos of them went viral as netizens complained that the event revealed problems when it was supposed to reflect the capital's healthy side.
To tackle the problem, the central government is undertaking a long-term battle against pollution, so sustainable development is now a top priority.
Policies, incentives and other support measures have been implemented to drive the development of renewable energy, and 10 eco-friendly codes of conduct were issued in June to encourage the public to protect the environment.
The measures include choosing reusable shopping bags over plastic bags and sorting household trash before disposing of it.
While plogging has yet to be included in the codes, its adherents have a strong presence and the feedback from both observers and runners has been positive.
"People realize it's a good thing to do, even if they are just standing on the street yelling hao ren, hao ren (good people, good people) at us!" Eisenring, the Swiss runner, said.
Great potential
Many people who have tried plogging said they would recommend the activity to friends and relatives.
Zhang Xuejuan, 28, joined Trash Running China because she thought it was a cool idea, but after collecting a few large bags of trash during each run, she began to wish people would litter less.
As a marketing professional with an environment-related subscriber account on social media, Zhang is determined to promote plogging as heavily as possible.
"This form of running has a very strong direct impact. In fact, one of our runners quit smoking because he found too many cigarette ends on the streets," she said.
Eisenring said: "Waste management and pollution is a topic the government is following more closely now. It's being discussed in public and more people know what can be done to reach the goal of blue skies, clean water and vegetation."
She added that Chinese people prefer the concept of "doing things together", whereas Westerners focus more on solo activities.
"That's why we always go for drinks and food together after a run," she said.
The group's collective ethos helps to maintain momentum because ploggers encourage one another during activities, and working together helps to reduce the embarrassment factor when passers-by stare at them.
Some skeptics have complained that the ploggers' efforts are just a drop in the ocean because China produces a huge amount of domestic waste.
In fact, the problem remains acute, even though a large proportion of waste is collected and not just dumped on the side of the road.
Zhang said every plogger collects about two bags of waste during their runs, but some discarded materials can't be collected.
Sometimes the job requires a strong stomach, too. Zhang recalled one time when her group came across kitchen residue that looked as though someone had vomited over it.
Despite their bamboo tongs, the ploggers were reluctant to deal with the mess. Nevertheless, they cleaned it up.
"We could have left the dirty trash for the street cleaners, but that moment made us realize how great those cleaners are," she said.
For Sogor, the plogger from Hungary, that moment encapsulated the meaning of the activity - raising awareness.
Ploggers will never be able to clean up all the waste on the nation's streets, but they can show people how much trash is produced in urban areas and provide a way for everyone to play their part in environmental protection.
"Let the people see and maybe, next time, they will think twice before littering the streets," she said.