'Clear message' on multilateralism strikes chord with international experts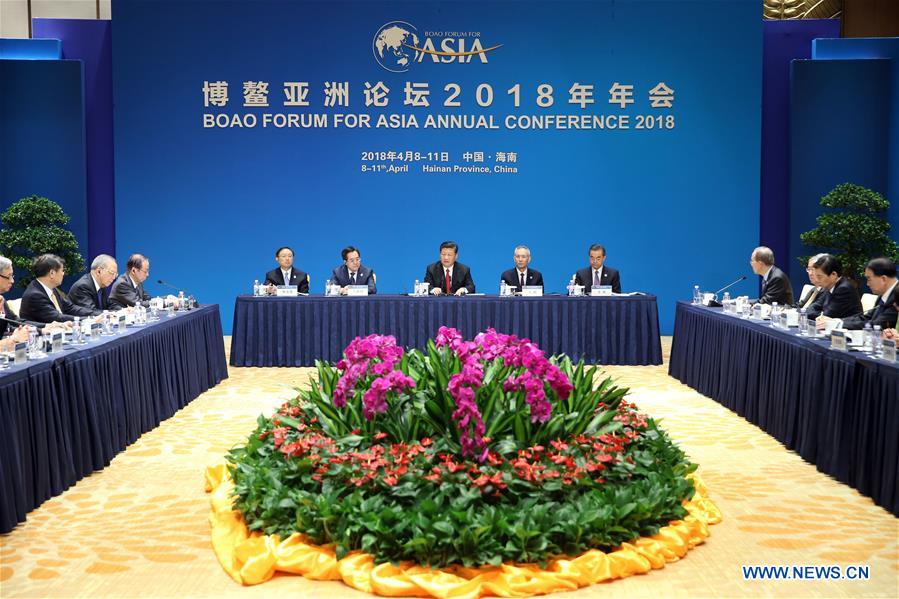 President Xi Jinping clearly laid out China's intention to build on the global, multilateral economic structure and international cooperation in an interdependent world economy, representatives of international organizations said on Wednesday.
Xi's keynote speech at the opening of the Boao Forum for Asia on Tuesday has great significance at a time in which some countries are challenging the international economic system by resorting to unilateralism and isolationism.
"China favors multilateralism, which is my interpretation of President Xi's speech," said former World Trade Organization director general Pascal Lamy in an interview with China Daily.
"This is a clear message, and Europe, Africa, India and Latin America are also in favor of the multilateral system."
Lamy, one of the more than 2,000 politicians, business leaders and scholars attending the forum, which concluded on Wednesday, said he listened "very carefully" to Xi's explanation of China's stance on international economic governance.
The best means of regulating and facilitating global trade and investment is the multilateral system, Lamy said, and he suggested that China can "strengthen multilateralism" in trade and "help create a multilateral system" in investment.
Currently, global trade is regulated by the World Trade Organization in the mainstream, multilateral regime, but investment flow protocols are still negotiated mainly on a bilateral level.
Lamy said the other message he picked up from Xi's speech is that China, now four decades into its reform and opening-up, intends to keep opening wider.
Robert Koopman, chief economist at the Geneva-based WTO, also noted that Xi emphasized China's determination to press ahead with its opening-up policy following its rapid integration into the global production chain.
After hearing Xi's announcement that China would expand access to its market, support imports and improve the business environment, Koopman said: "The president's messages were well received, with the right tone, and he has revealed a sense of optimism about China's opening-up that will continue after these four decades."
Koopman said China can play a large role in protecting globalization, and he cited the Belt and Road Initiative as one such example that benefits not only China, but also its neighbors and other economies while engaging in the next phase of globalization.
Lamy and Koopman were both eager to hear more about China's timetable for easing investment restrictions and opening its financial industries, which Xi said in his speech should be undertaken as soon as possible.
On Wednesday in Boao, China's top monetary and financial officials disclosed more details of measures and timetables for attracting more financial investors to the Chinese market.
Ivona Ladjevac, head of the regional center for the Belt and Road Initiative at the Institute of International Politics and Economics in Belgrade, Serbia, said Xi's announcement on Tuesday confirms his deep understanding of the importance of cooperation among all countries.
"Xi truly understands the nature of globalization, which turns the entire world into a global village," Ladjevac said.
"Old or newly invented forms of protectionism and isolation won't lead us anywhere. Neither will building walls."
Ladjevac also said that behind the announced reform package lies the intention of facilitating the acceleration of cooperation between countries as well the idea of upgrading their economies into more complementary ones.
Edvard Moser, a Norwegian neuroscientist and Nobel Prize in physiology laureate, said Xi's signal of increasing openness and globalization is precisely the proper course of action in a situation that could send the world spiraling into a trade war.
Moser also said the enhancement of IPR protection Xi spoke of would "absolutely" promote research and development.
"It's as important for research and development as for any other field, as they all depend on exchanges of ideas of people," Moser said.
If you have any problems with this article, please contact us at app@chinadaily.com.cn and we'll immediately get back to you.