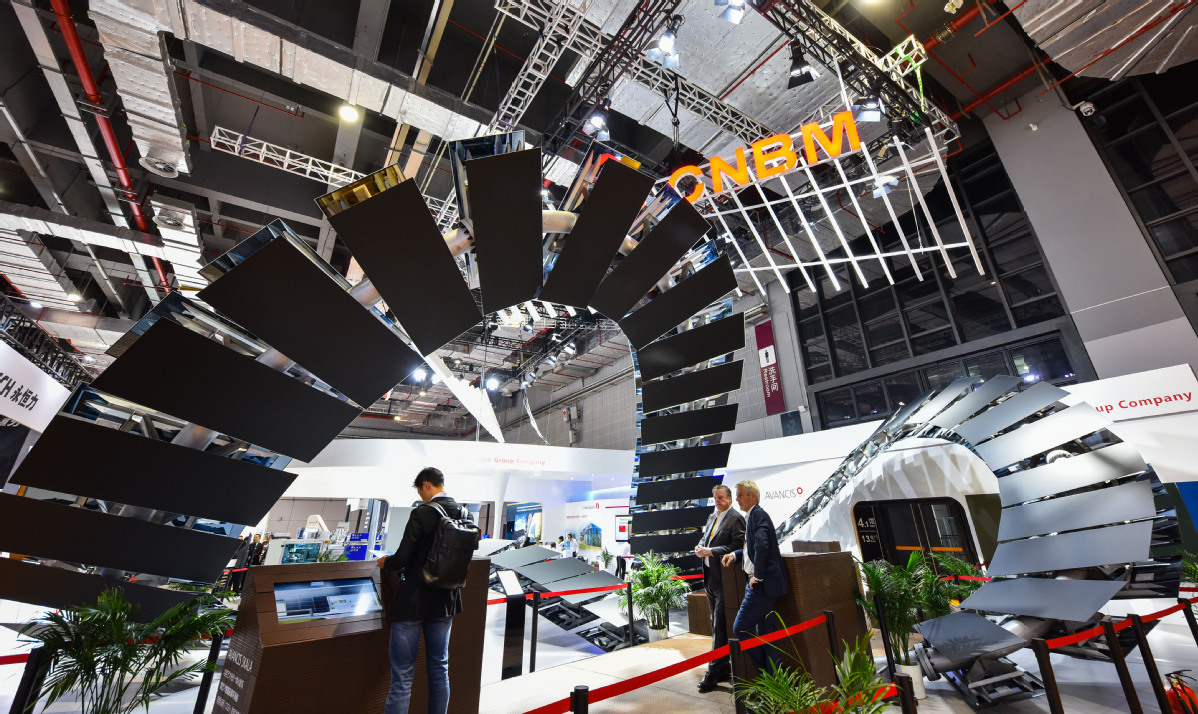 Products for large aircraft, low-carbon cement tech part of CNBM's new focus
China National Building Material Group Co Ltd, or CNBM, a centrally administered State-owned enterprise, will focus on supplying high-end building and industrial materials to reinforce China's role in the world's supply chain during the 14th Five-Year Plan period (2021-25), the group's top executive said.
"By partnering with other central SOEs, including Commercial Aircraft Corp of China Ltd and Aero Engine Corp of China, Beijing-based CNBM has not only built a carbon fiber production base to supply materials to China's aviation and aerospace sectors, but also gained qualification to supply three major body parts for the country's CR929 wide-body large passenger aircraft," said Zhou Yuxian, the group's chairman.
With the government calling on central SOEs to actively integrate into the nation's basic research activities and applied innovation systems to create a source for original technologies, Zhou said CNBM has already made a breakthrough in manufacturing high generation liquid crystal glass substrate and accelerated industrialization for high thermal conductivity silicon nitride substrate, which can be used in fields such as new energy vehicles, ultra-high voltage and high-speed trains.
To better serve key national projects, CNBM will push for innovation breakthroughs in the areas of composite materials for large aircraft, low-carbon cement technology, hydrogen storage and key transportation materials, new materials for high-end glass, and other original technology sources in the new five-year plan, Zhou said.
In the meantime, the group will deploy more resources in high performance carbon fiber and glass fiber, information display glass, wind power blades, special cement and high performance concrete, lithium battery diaphragm, nitride ceramics, artificial crystals and a large number of new materials to achieve industrial mass production in the coming years.
Thanks to its upgraded business structure, innovation and going global strategy, CNBM saw its sales of new material products climb 23 percent on a yearly basis in the first half. Together with surging market demand from both the domestic and overseas markets, the company predicted sales revenue and profit generated by the new materials business are expected to exceed 100 billion yuan ($15.49 billion) and 18 billion yuan, respectively, in 2021.
Supported by 1,377 subsidiaries and 26 national scientific research institutes, the group is the world's largest manufacturer of cement, gypsum board, glass fiber and wind power blades by production volume. It currently runs 13 listed companies and has more than 200,000 employees, including more than 20,000 foreign staff.
Apart from building 496 cement and glass production lines in overseas markets, including Indonesia, Vietnam, Russia and Saudi Arabia, the Chinese company currently is conducting 77 smart industrial projects in other parts of the world.
It will further expand its presence in markets participating in the Belt and Road Initiative, build regional centers and international-level business platforms, as well as increase its investment in global markets during the 14th Five-Year Plan period, Zhou added.
Despite the resurgence of the COVID-19 pandemic in certain countries, the company saw the value of newly signed contracts worth 12.24 billion yuan in the first half. It has continued to tighten contagion prevention in its 25 overseas warehouses and supermarkets for building materials to enhance its supply chains in global markets.
CNBM's sales revenue climbed 12 percent on yearly basis to 187.3 billion yuan between January and June, while its total profit jumped over 20 percent year-on-year to 17.2 billion yuan.
While promoting the optimization and structural adjustment of State-owned capital, it is vital for central SOEs to carry out solid actions to uphold the industry chain and strengthen coordination between the upstream and downstream businesses, said Liang Jun, president of the Guangdong Association of State-owned Capital.
He said these efforts will deepen China's supply-side structural reform and support innovation-based growth.
If you have any problems with this article, please contact us at app@chinadaily.com.cn and we'll immediately get back to you.