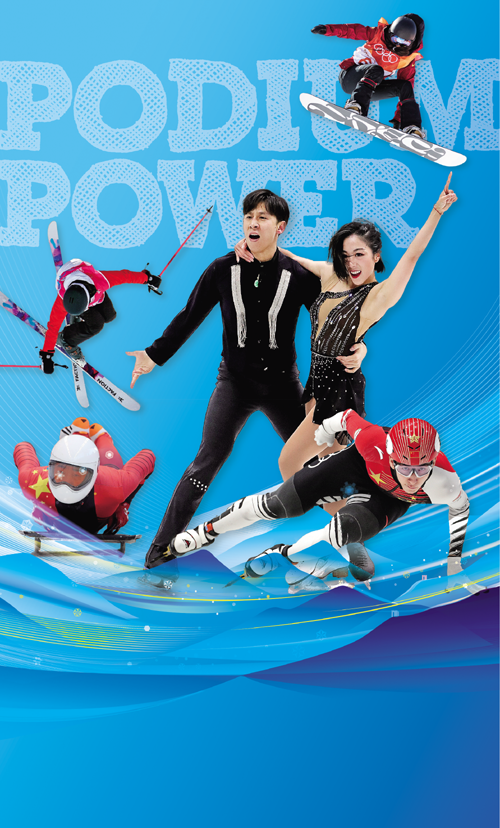 Despite the ongoing impact of the COVID-19 pandemic, Beijing is going all out in its final year of preparations for the 2022 Winter Olympics, guided by a philosophy of safety, simplicity and excellence.
After hosting an exceptional Summer Games in 2008 to resounding global acclaim, Beijing is again warming up for Olympic action as 2022 organizers enter the home stretch. The goals are clear: Staging a next-level Winter Games with an unprecedented emphasis on sustainability, legacy and, most importantly, safety amid the pandemic.
Exactly 12 months out from next year's Feb 4 opening ceremony, all 12 competition venues in three zones-downtown Beijing, the city's northwest Yanqing district and co-host Zhangjiakou in Hebei province-have been completed up to the highest international standards. Ancillary facilities for non-competition functions are on schedule to be ready by September.
Venue operation teams have settled in at all competition sites to run facility tests, draft competition plans and train staff to prepare for an adapted sports testing program, which has replaced the original plan involving international athletes due to the pandemic's impact.
Chinese organizers' unremitting efforts to honor the country's promise of delivering an excellent Winter Olympics has been highlighted by President Xi Jinping's instruction during his inspection visits to the venue clusters last month that preparatory work be carried out with "greater perfection" even during such a challenging time.
Xi underscored the 2022 Games' role in developing China's winter sports sector and expressed his hope that the Winter Olympics will contribute to the nation's goal of becoming a global power on ice and snow.
Xi's ardent interest in China's winter sports development-underlined by his promise to oversee the delivery of a "fantastic, extraordinary and excellent" Games in 2015 before Beijing's bid was declared the winner-is reflected in the central government's vision of using winter sports as a catalyst to boost national health, regional development and sustainable economic growth.
The 2022 Winter Olympics will serve as a driving force for coordinated development in Beijing, Tianjin and Hebei province, Xi noted during an inspection tour to Zhangjiakou in 2017.
This promise is in line with the International Olympic Committee's reform proposals in the Agenda 2020 plan, which aims to ensure the Olympic Games fit into the long-term development of relevant cities and regions.
The interest shown by Xi in the training progress and daily lives of Chinese athletes has lifted the spirits of the nation's Olympic hopefuls, highlighted by his visit to the figure skating team at the Capital Indoor Stadium in Beijing last month.
"It's really an honor and a great inspiration to perform under the president's watch," skater Jin Yang said of Xi's visit. "His caring words reminding us to get enough rest and to be careful not to get injured were really touching, filling us with energy and confidence to keep pushing for better results."
As part of a national drive initiated by Xi, China is rolling out an ambitious plan to get 300 million people involved in winter sports activities by 2022.
"With these 300 million people engaging in winter sports, we can clearly say the history of winter sports will be one before Beijing 2022 and one after the Winter Games in Beijing. So it's really a landmark event for the global development of winter sports," said IOC president Thomas Bach.
Echoing guidance from the central government, Beijing 2022 organizers have been readjusting all aspects of their work, ranging from venue operation to international communication and the Games' services, to proceed cautiously under ever-changing circumstances with COVID-19 countermeasures at the core.
The Beijing 2022 organizing committee has identified 11 key tasks, including optimizing venue operation, drafting pandemic control protocols, finalizing competition schedules and planning for post-Games development.
Without compromising their standards of excellence, organizers have opted for a more practical and simplified approach for the final year of preparations to ensure the Games are staged safely and on schedule, according to Zhang Jiandong, executive vice-president of the Beijing 2022 organizing committee.
"The progress has been solid on all fronts in our preparation," Zhang, a vice-mayor of Beijing, said during a speech at the annual session of the Beijing Municipal People's Congress last month.
"Yet, entering the critical final year, we have to streamline our operation, cut unnecessary procedures, reduce potential risks and keep close cooperation with all parties involved internationally to host the event in a safe and excellent manner," Zhang said.
The progress has earned an emphatic thumbs-up from the IOC.
"It will be a great moment to bring the world together in the spirit of peace, solidarity and friendship," IOC chief Bach said during an online meeting on Monday to address concerns from 84 National Olympic Committees on Beijing's preparations.
"Despite the many challenges of the coronavirus pandemic that we are still confronted with, we can already say with great confidence that China is ready to welcome the world's best winter sport athletes for an unforgettable Olympic Winter Games Beijing 2022," Bach added.
Helping hand
A newcomer in most winter sports, China is introducing foreign expertise to address a lack of know-how in event organization.
As a highlight of this international cooperation, ice-making trials by technicians from home and abroad at some 2022 venues have paved the way for smooth Games-time operation.
The newly built National Speed Skating Oval in downtown Beijing is drawing on the experience of a team led by Canadian ice-maker Mark Messer.
The cutting-edge venue features the largest ice surface needed for the Games, so the team's expertise in inspecting the 400-meter speed skating track and testing the refrigeration system is crucial.
Messer, who made ice for the long-track competitions at the 2014 and 2018 Winter Olympics in Russia and South Korea respectively, hailed the first trial as a success as the venue works toward providing perfect racing conditions for skaters.
"The trial helps us test all the equipment and all the ice-making things and start to get the relationship with the temperature of the variables that we have to do," said Messer.
"So every time we make the ice again, we learn more. I am sure we will make the best ice possible at the Olympics."
Working alongside Messer, a six-strong local team has been mobilized to prepare for the adapted test competition, involving domestic skaters only and scheduled for April. It is hoped this event will offer invaluable real-time data for maintaining stable ice quality despite variable humidity and indoor temperatures.
"We have the world's best facility without question. It's up to us to run all the necessary tests and training of our staff to make sure everything falls right into the place to make our track one of the world's fastest to race on," said Zhang Chunhui, Beijing 2022's deputy director for the speed skating competition.
As one of five 2008 Summer Games venues being reused for the winter edition, the Wukesong Arena also has its operational team up and running, as Chinese staff and American chief ice maker Nelson Don Moffatt prepare for ice hockey in 2022.
Moffatt, who underwent mandatory quarantine and repeated COVID-19 testing upon landing in China before starting his work, said witnessing the venue's transformation has been awe-inspiring.
"It's been a long journey to get here, but definitely well worth it," said Moffatt.
Built for basketball at the 2008 Games, the Wukesong Arena will stage the women's ice hockey event in 2022. The National Indoor Stadium, a Summer Olympics facility for gymnastics and handball, will host the men's competition, with both venues equipped with under-floor cooling pipes.
Boasting over 35 years' experience from previous Olympics and the National Hockey League, Moffatt breaks his expertise down into small details for his Chinese colleagues.
"It's about learning from somebody that is familiar with working at the highest level and to be able to see the very minor details that will bring this to a much higher standard," he said.