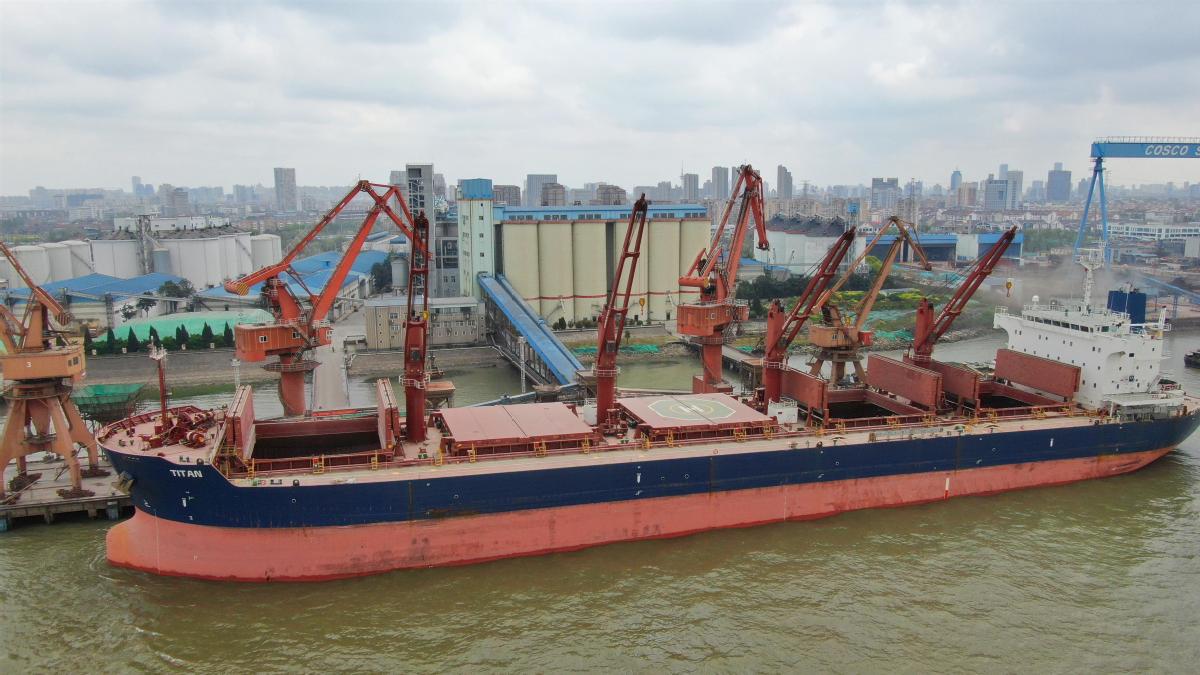 US goods exports to China, important to states' economies and jobs, contracted by 11.4 percent due largely to tariffs and business uncertainties in 2019, and the COVID-19 pandemic is likely to bring a grimmer picture for this year, a leading trade association said in a report Thursday.
The "2020 State Export Report", released by the US-China Business Council (USCBC), also indicates a 10 percent drop in US jobs supported by exports to China between 2017 and 2018, a trend that is likely to continue in 2019 and get worse as the novel coronavirus shows no sign of abating in many parts of the world.
The annual report of the USCBC, a trade body representing more than 200 US companies doing business with China, offers a perspective from the US side of how trade and jobs had been affected in a nearly two-year bruising trade battle between China and the US, which was capped by a phase one trade deal in mid-January.
Over the past two years, tariffs and an uncertain business environment have prompted "precipitous declines" in US exports to China that have not been fully made up by its export growth to other markets, the report noted.
In 2017, 30 US states exported more than $1 billion of goods to China; in 2019, only 27 states were able to do so. In 2017 and 2018, only 15 states managed to export more than $1 billion in services to China. Policies affecting travel and student visas may have resulted in lower numbers for 2019, according to the report.
In all, the US exported nearly $105 billion in goods to China last year, marking a continued slide from a high point in 2017, when American firms sent a total of $127 billion worth of goods to the China market, resulting in a two-year contraction of 18 percent, according to the report.
In addition, in 2018, trade tensions with China played a role in the loss of more than100,000 jobs that were supported by exports to China.
The downward trend in exports is likely to be reversed in the short term, thanks to the committed purchase of huge amounts of US goods and services this year and next as part of the US-China phase one trade agreement.
But the deal does not eliminate many of the tariffs already in place, which will continue to hurt US exporters and importers, the USCBC report said.
Earlier reports said that under the phase one trade deal, the 25 percent punitive import taxes on $250 billion in Chinese goods that started in 2018 have remained intact.
"Trade generates jobs, tax revenue, and a range of economic development activities," USCBC President Craig Allen said. "Lifting tariffs will be especially important in the wake of the pandemic."
The data in the USCBC report do not reflect possible effects on trade due to COVID-19, which flared up in early 2020.
Under the specter of the pandemic, China's imports from the US declined by 1.3 percent in the first quarter compared with the same period last year, according to Chinese Customs statistics released early this week.
Still, China bought $5.04 billion worth of US agricultural products between January and March, a surge of 1.1 times on a yearly basis, Chinese customs data showed.
"I am hopeful that because of the collaboration and work on fighting the virus, and also of course the phase one of the trade agreement, that there will be a better relationship going forward," US Ambassador to China Terry Branstad told reporters on Wednesday, according to an Associated Press report.
Farmers and producers of Iowa, where Branstad had served as governor for decades, exported $1 billion worth of oilseeds and grains and around $200 million of meat products to China in 2019.
Also due to China's reduction in certain retaliatory tariffs, both North Dakota's and South Dakota's goods exports to China — each state's second-largest export market — more than doubled last year as sales of oilseeds and grains rebounded, according to the USCBC report.
China was among the top five goods markets for 42 US states. In services, China was the top market for eight states in 2018, and a top five market for 49 states, according to the report. In all, China remains the third-largest market for US goods and services exporters, according to the report.
If you have any problems with this article, please contact us at app@chinadaily.com.cn and we'll immediately get back to you.