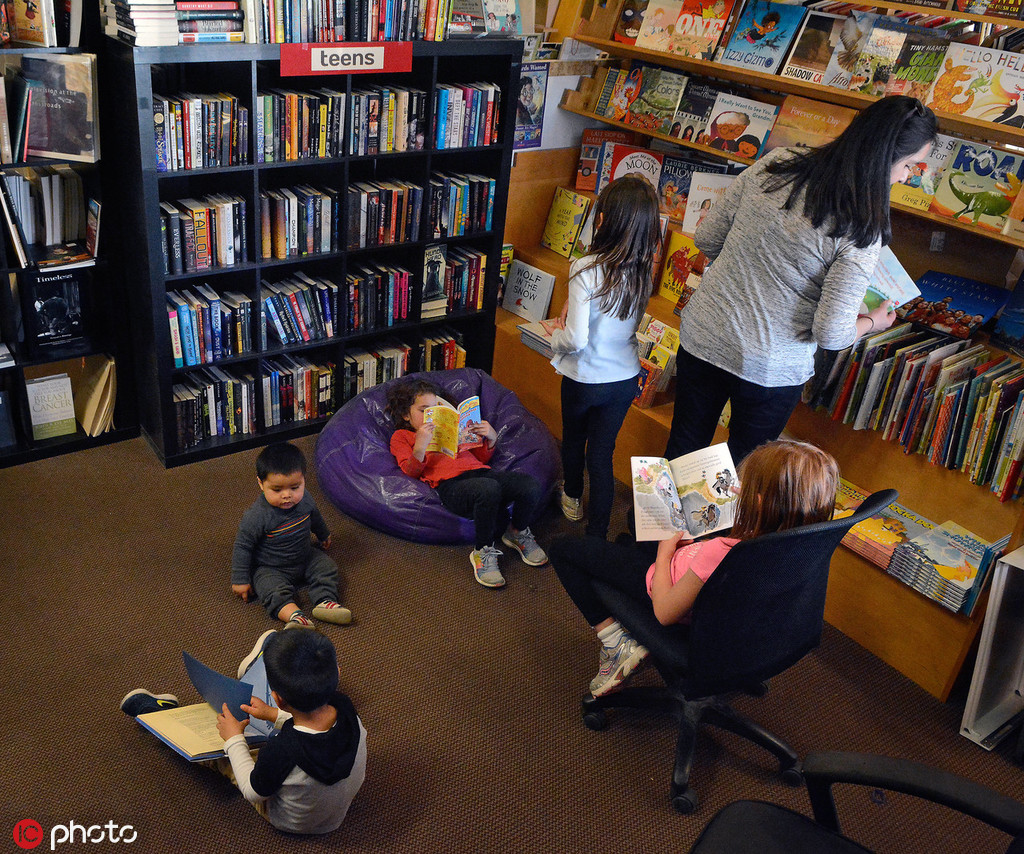 WASHINGTON - Jamie Fiocco, president of the American Booksellers Association, said publishers, booksellers, consumers and numerous communities across the country would be negatively impacted by proposed additional tariffs on Chinese goods, in what she calls a "domino effect."
"Our margins running our businesses are very slim. So anything that impacts the publishers and how they're able to sell to us is very significant," Fiocco told Xinhua after her testimony at a hearing over the Trump administration's threatened 25 percent tariff hike on $300 billion worth of Chinese products, held inside the US International Trade Commission Building on Tuesday.
"We are working with books that are pre-priced, so they'll have a printed price on them. We have pressures from the online resellers. We also have pressures from rising wages and rising rents," said Fiocco, whose organization represents 2,500 independent brick-and-mortar booksellers.
If publishers, who are also operating on "very thin margins," are not able to absorb the price and pass it on to booksellers, then they would have no choice but to raise prices, which would certainly lead to a decline in sales, said Fiocco, who is also the owner of Flyleaf Books, a bookstore located in the US state of North Carolina.
"So if I sell less books, then I have less employees or I close and then the businesses my employees through their wages support in my community will suffer as well," she said. "So there's a bit of a domino effect."
Fiocco is also concerned that additional tariffs would put physical bookstores at a disadvantage compared with online e-tailers, because the latter can sell books at a loss, and make money in selling other products, but for brick- and-mortar bookstores, "books are our main business."
Noting that independent bookstores tend to be the "cultural spots" in a community, Fiocco said in her testimony that the proposed tariffs will not only impact what books are available and affordable to readers, but also impact what "makes my store, and other stores like mine, unique."
"Tariffs on book titles would impose significant and unwarranted roadblocks on creating a vibrant, diverse children's book section, for example," she said, as the great majority of children's books are printed in China.
There has been a trend for printers in China to do four-color printing, a method used to print full-color images, "very well cheaply and quickly," Fiocco told Xinhua. "The best place and the cheapest place and the fastest place tends to be China."
"The thick board books for our littlest readers and the books with moving parts that make early motor skills fun are produced almost exclusively in China," Kim Zablud, director of public services at the District of Columbia Public Library, said in her testimony Wednesday.
Madeline McIntosh, CEO of Penguin Random House, a major US publisher of consumer books, highlighted China's printing capacity in her testimony Wednesday. Noting that the publisher currently prints about 94 million units annually in China, McIntosh said "that printing volume cannot move elsewhere in any foreseeable future."
Fiocco said that imposing tariffs on books is a "clear reversal" of decades of US policy that exempts books and other written material from trade restrictions, and any increase in the price of books would limit the exchange of ideas.
The independent bookseller said that's what she cares about most. "Sometimes we have exchanges of booksellers that go to China or Chinese booksellers that come here ... we'd like to share ideas and to meet each other and to compare notes," she said. "There's no politics between us. There's just the love of books."
Fiocco hopes the proposed tariffs will not be imposed on books. "We need the high-quality printing from China. We like it. There are partners in the industry," she said. "I would hope that politics wouldn't come between us."