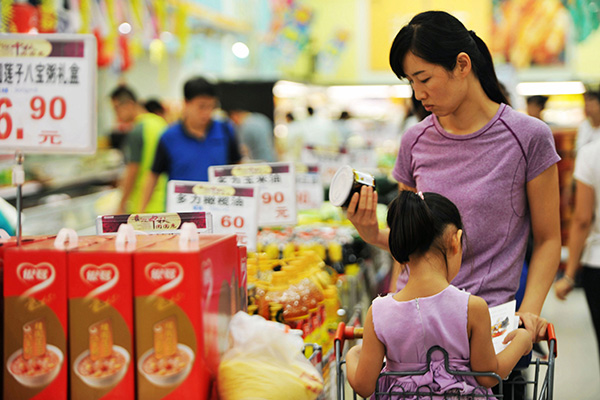 BEIJING - China saw rapid growth in the fast-moving consumer goods (FMCG) market in 2017 as growing middle-class consumers spent more on premium and healthier products, according to a report.
The total value for China's FMCG market grew by 4.3 percent in 2017, up 0.7 percent from 2016, said the report released on Wednesday by the consultancy Bain & Company and the consumer market research company Kantar Worldpanel.
Part of the fast growth is due to the rising disposable household income in China. According to the report, the compound annual growth rate for disposable household income per capita reached 8.2 percent over the past six years.
"As disposable income rises, China's ever-growing middle class consumers are spending more on premium and healthier products," said Jason Yu, general manager of Kantar Worldpanel and co-author of the report.
The report also highlighted key trends impacting China's FMCG market.
In 2017, China's FMCG e-commerce sales grew by more than 28 percent, accounting for about 10 percent of the total market turnover, while consumers in China's first-tier cities still have the highest online shopping penetration rate at 73 percent.
The sales of local FMCG brands grew by 7.7 percent in 2017, contributing to 98 percent of China's FMCG market growth, according to the report.
"Local brands have been outperforming foreign brands since 2012 in the FMCG market," said Bruno Lannes, China partner in Bains Greater China Consumer Products practice and co-author of the report.
If you have any problems with this article, please contact us at app@chinadaily.com.cn and we'll immediately get back to you.