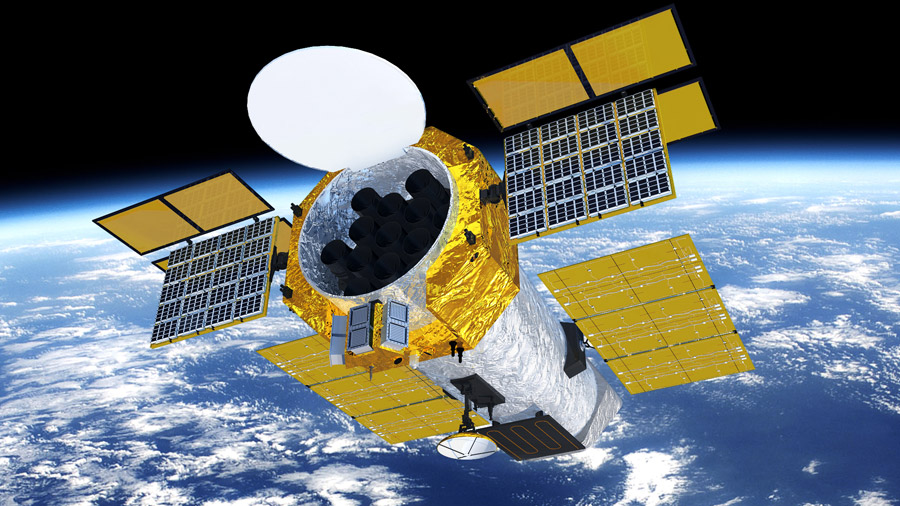 China plans to launch a world-leading X-ray space telescope by 2025 to study the universe's most extreme and mysterious events, such as black holes, gamma ray bursts and the merging of neutron stars, scientists said on Friday.
The telescope, named the "enhanced X-ray Timing and Polarimetry mission (eXTP)", will have "unique and unprecedented observing capabilities" for examining the extreme physics around black holes, or the interior of neutron stars-superdense remnants of massive stars, said Zhang Shuangnan, a researcher from the Institute of High Energy Physics of the Chinese Academy of Sciences.
China launched its first X-ray space telescope-the Hard X-ray Modulation Telescope, also known as "Insight"-in June. It helped scientists define the energy level of a newly discovered gravitational wave-tiny ripples in the fabric of space and time caused by violent cosmic events-in August.
China's new telescope may serve as one of the "three chariots driving international X-ray astronomy", alongside those from the Large Observatory for X-ray Timing and the ATHENA project, both led by the European Space Agency, Zhang said.
The eXTP telescope will cement China's position as one of the world's leading countries in astrophysics, he said. The observatory also might become the largest international science project spearheaded by China.
More than 100 institutes from 20 countries, including the United States and the United Kingdom, are participating in the project, Zhang said, adding that the research team may swell to more than 150 institutes in the future.
Andrea Santangelo, the international coordinator of eXTP and a professor at the University of Tuebingen in Germany, said the eXTP is an "exciting" project that has not only showcased the history of cooperation between China and Europe, but also thrilled academics worldwide.
"It will open a new window for basic research to understand the fundamental physics in the universe," he said. "For the first time, we might be able to study physics phenomena that are too extreme for labs on Earth."
Chinese scientists proposed the X-ray Timing and Polarimetry telescope in 2007. The prototype of eXTP will be completed by 2022, and China plans to launch the telescope by 2025 and begin its 10-year operation period-six years more than the designed life span of Insight, said Zhang.
Apart from European countries, the United States is also developing its own space X-ray observatory, NASA's STROBE-X.
"The competition is very tough, and eXTP might be the most challenging observatory, both in terms of global coordination and technology, that China has ever built," said Zhang.
"But China has seen monumental growth in its space capabilities in the past decades and has earned a reputation for building advanced space equipment in a short amount of time. The teams behind eXTP are up for the challenge," he added.