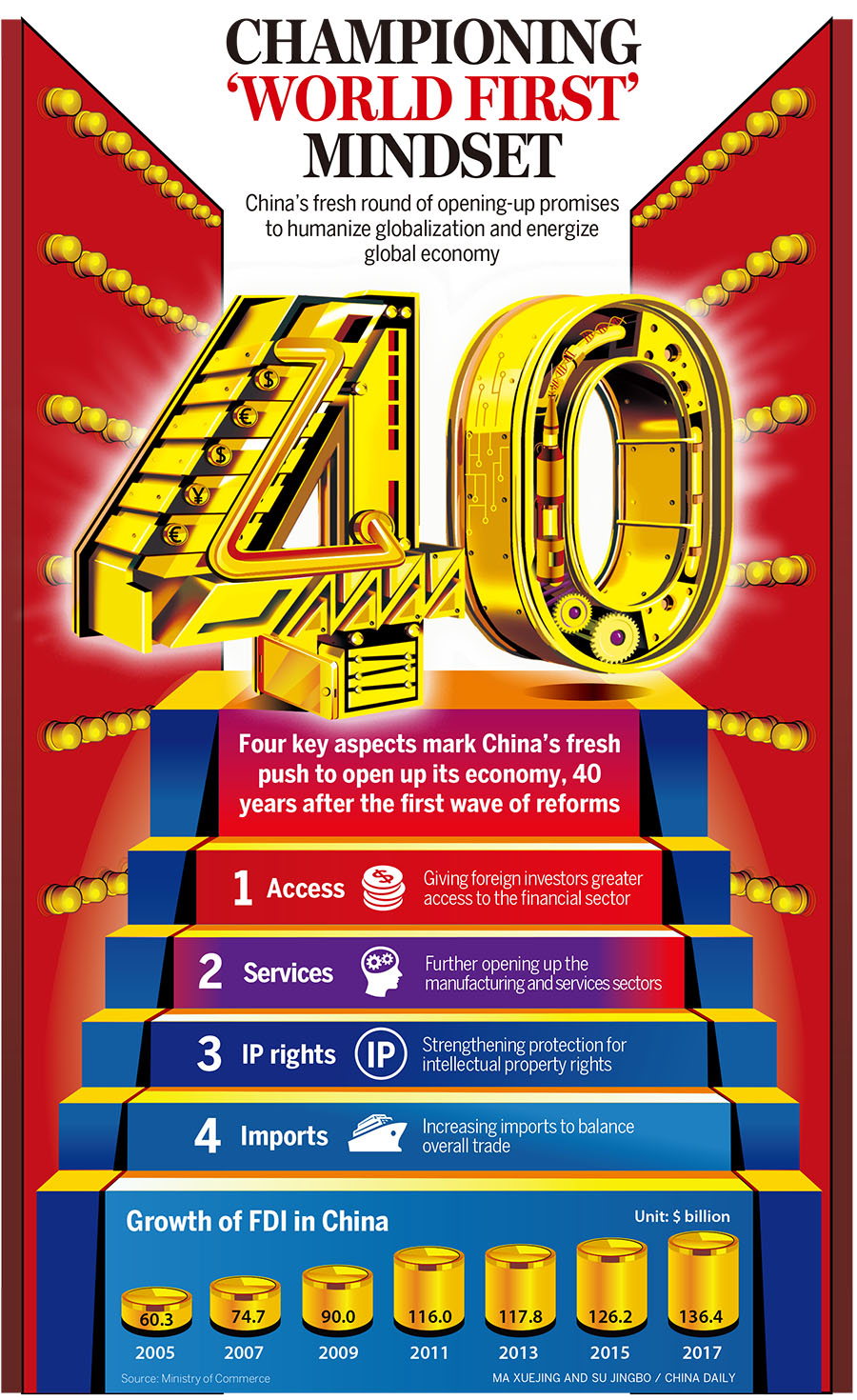 China's fresh round of opening-up promises to humanize globalization and energize global economy
China's push toward further opening-up promises to be a game-changer that could help usher in a new era in global trade, international cooperation and globalization, experts said.
The timing of the new wave of economic reforms is significant, 40 years after the first wave of economic reforms, and when the world is now riven with discord and discontents over perceived widening of economic inequities between social classes and between nations. Such perceptions have been causing over-reactions like protectionism and unfair practices, they said.
For one, trade would become more inclusive, given China's status as the world's second-largest economy. For another, many nations will likely share benefits arising from China-led initiatives.
That, in turn, would inject new growth momentum into a global economy that has been floundering of late due to strong headwinds facing globalization. Higher growth worldwide as a result of China's efforts would eventually improve lives and deliver prosperity to vast multitudes, officials and business executives said.
On Tuesday, Chinese President Xi Jinping, who is also the general secretary of the Communist Party of China Central Committee, called for the development of a modernized economy to push the country's economic development to the next higher level.
He called for an open economy marked by higher standards-diverse, balanced, secure and efficient. The big idea is that opening up on all fronts should help not just China but the entire world, given the pivotal role of the local economy in the global scheme of things.
Xi's vision was also articulated by Liu He, a member of the Political Bureau of the CPC Central Committee, in an address to the annual gathering of the World Economic Forum at Davos in Switzerland last month.
Liu spoke about Xi's vision of a global community of mankind with a shared future characterized by pursuit of free trade and a more humane globalization. The vision unveiled China's new reforms beginning this year.
Liu told the WEF that China will encourage both inbound and outbound investment and business activities as it seeks greater economic and trade interactions with other countries. The country will work with them to establish an open world economy, he said.
The country will continue to let the market play a decisive role in resource allocation, and focus on better protection of property rights, especially intellectual property rights, said Liu, who is also the director of the General Office of the Central Leading Group for Financial and Economic Affairs.
Rupert Adams, a partner of Alignvest UK LLP, an investment company based in London and Toronto, called Liu's speech a message from China about its continuous reform and opening-up. He said the speech also reflects practical action in support of economic globalization.
Agreed Honson To, chairman of global auditing firm KPMG's Asia-Pacific region. "With the opening of a new economic cycle in China, the market and policy environment for foreign investment will be further improved, leading to 'higher quality' foreign investment.
"Biomedicine, internet, new materials, high-end equipment, science and technology services will be hot areas for foreign companies to invest in China in the next stage, as the country is experiencing a diversification of innovative economic structure and acceleration of industrial upgrading."
To further said traditional and other fast-growing fields will continue to remain attractive destinations for foreign direct investment or FDI in China. He identified several such fields: green finance, technology, high-end consumption, food safety, education, healthcare, insurance, natural resources, chemicals, traditional equipment manufacturing, engineering contracting, agriculture and services-related businesses.
Concurred Xu Hong, a partner at global law firm Linklaters LLP headquartered in London. "We expect that China could lead to links between itself and other capable countries in financial exchanges, and in investment management and other services, including the deployment of the strategic global management, supply chain, premium product and marketing capabilities of key global companies to investments and joint ventures in China."
According to Wei Jianguo, former vice-minister of commerce, China's broadminded, or 'World First', approach to global development is a sagacious response to "new challenges such as 'America First' and new policies from other economies in term of gaining FDI …
"China must deploy more resources to formulate equal rules for the game, by not imposing special conditions of access or threshold for foreign and private companies in the future."
Wei said based on the current business setting, all foreign companies will have equal opportunities to participate in the Belt and Road Initiative and participate in the economic development of China, as well as strengthen the protection of intellectual property rights with equal thresholds and tougher punishment measures.
The central government also plans to open new free ports in Shanghai and other select cities as another step to open its economy to foreign players and further support trade and maritime-related services.
Wei said free ports will be one of the reforms and focus areas in the opening-up process. That will help the niche area to maintain its advantages over other arrangements like free trade zones, rather than being a test field or a pioneer that aims at guiding more arrangements.
Sun Yongfu, former director-general of the European Department of the Chinese Ministry of Commerce, said China today is open to different ideas. It does not just want to put its own ideas for-ward, but also wants to listen to others. It is about what countries can do in cooperation with each other, jointly, bilaterally and multilaterally.
This is borne out by recent measures. The Ministry of Commerce revised and promulgated the Interim Administrative Measures for the Record-filing of the Incorporation and Change of Foreign-invested Enterprises last year. It also incorporated foreign capital in mergers and acquisitions of enterprises with business scope not subject to special access management measures into record-filing administration. The measures mean foreign enterprises can expect a level playing field in China from now on.
The 2018 China Business Climate Survey Report, based on significant responses from more than 400 member company representatives out of the 849 polled, was released by the American Chamber of Commerce in China last week. The survey was done between Oct 23 and Nov 26 last year.
Its report last week said about 46 percent of respondents are confident China will further open its market to foreign investment within the next three years. Last year, a similar survey showed only 34 percent of respondents were confident in this context.
Small wonder, FDI in the Chinese mainland soared to an all-time high of 877.56 billion yuan ($136.4 billion) in 2017, up by 7.9 percent from 2016. FDI mainly flowed into the country's high-tech industries such as electrical, telecommunication, medical device manufacturing and service businesses, official data show.
Meantime, the number of newly established foreign companies, including Siemens AG, BP Plc, Thales Group, Starbucks Corp and Airbus SE, also rose to 35,652, up almost 28 percent year-on-year.
Tang Wenhong, director-general of the Department of Foreign Investment Administration in the Ministry of Commerce, said China has constantly deepened the reform of "streamlining administration, delegating powers, improving regulations and optimizing services" by realizing comprehensive online record-filing of incorporation and change of foreign-invested businesses outside the negative list to significantly improve convenience.
China also pledged it will further integrate its own rules with international trade rules, and ease market access. It vowed to substantially open up the services and financial sectors and create a more attractive investment environment for multinational corporations or MNCs.
Some MNCs are already readying to reap benefits from this environment. Montreal, Canada-based Bombardier Inc plans to bid for more than 30 rail transportation projects in China, including high-speed trains, propulsion and signalling equipment for rail vehicles, monorails, and automated people mover systems this year.